This simple and brief tutorial is going to show you how to speed up applications loading time on your Ubuntu with preload.
Preload is an adaptive readahead daemon. It monitors applications that users run, and by analyzing this data, predicts what applications users might run, and fetches those binaries and their dependencies into memory for faster startup times.
To install preload on Ubuntu, click the link below and click "Launch Application".
It brings up Ubuntu Software Center on preload information page: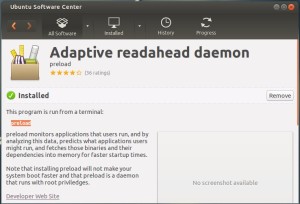 Preload will run silently in the background. Configurations file is /etc/preload.conf
Enjoy!