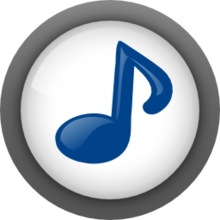 Cantata, yet another client for music player daemon now is at 1.2.1. This release brings a few improvements and bug fixes.
Currently Cantata has the following views:
Library – sorted as Album Artist (or Artist if Album Artist not set), Album, and finally Track.
Albums – displays albums as icons, sorted by their title.
Folders – displays MPDs virtual filesystem. (This view is hidden by default)
Playlists
Dynamic – dynamic playlists
Streams – allows saving of internet radio URLs
Online – Jamendo and Magnatune
Lyrics
Info – displays artist information from wikipedia/last.fm (via EchoNest)
Devices – enables copying from/to USB-Mass-Storage (UMS) and MTP devices, and ripping AudioCDs
Changes in Cantata 1.2.1:
Only use old Qt DBUS type annotations for Qt less than 4.8.2
Use "(c)" instead of "©", as "©" seems to mess up Qt translations.
Fix tagtype and URL handler detection. Fixes Composer support, and streams.
Use 32×32 for drag'n'drop icon, 64×64 for highdpi.
Use audio-x-generic icon for drag'n'drop if no cover found.
Fix potential memory leak with cover images.
Fix crash when changing online view from list to tree, after a soundcloud search.
Use MPD status.playlistLength to determine number of playqueue items when controlling state of prev, next, and stop buttons.
Install Cantata via PPA:
I've made this release into PPA for Ubuntu 14.04 Trusty, Ubuntu 13.10 Saucy, Ubuntu 13.0 Raring, Linux Mint and their derivatives to make it easy to install.
Press Ctrl+Alt+T on keyboard to open terminal. When it opens, run below commands one by one to install:
sudo add-apt-repository ppa:ubuntuhandbook1/cantata

sudo apt-get update

sudo apt-get install mpd cantata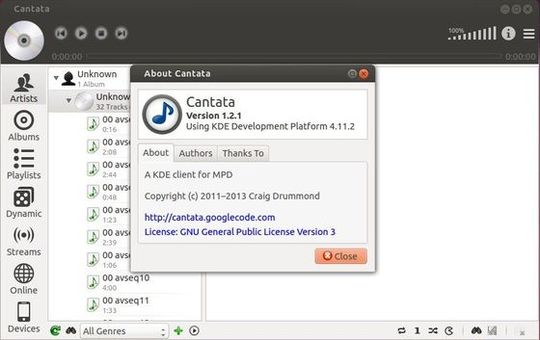 If you would like to build from source code, go to KDE-Apps.org