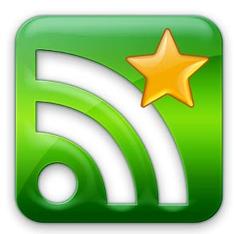 Liferea (Linux Feed Reader) is a news aggregator for GNOME desktop that aims to be fast, easy to use, and easy to install. It supports the major feed formats including RSS/RDF and Atom and can import and export subscription lists in OPML format.
Liferea 1.10.4 was announced on January 14th, 2014 with below changes:
Fixed Mistakenly claims "TinyTinyRSS source is not self-updating" (reported by Dominik Grafenhoher)
Fixes SF #1119: Crash on font resize at startup. (reported by David Smith)
Fixes #1117: Selecting last unread item in reduced feed list jumps to next feed (reported by Bruce Guenter)
Updated Arabic translation (Khaled Hosny)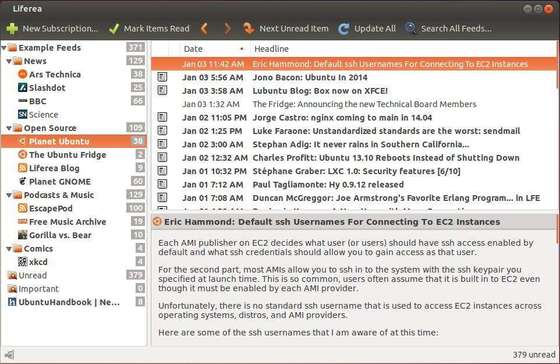 How to Install Liferea in Ubuntu:
Press Ctrl+Alt+T on keyboard to open terminal. When it opens, run below commands one by one to install the app from PPA:
sudo add-apt-repository ppa:ubuntuhandbook1/apps

sudo apt-get update

sudo apt-get install liferea
If you don't like the PPAs, download the .deb packages from launchpad page. Works in Ubuntu 14.04, Ubuntu 13.10, Ubuntu 13.04, Ubuntu 12.04 and Linux Mint.
You can also build liferea from source tarball, below dependencies need to be installed on your system.
intltool libgtk-3-dev libglib2.0-dev libgio2.0-cil-dev libpango1.0-dev libxml2-dev libxslt1-dev libsqlite3-dev libsoup2.4-dev libwebkitgtk-3.0-dev libjson-glib-dev gobject-introspection gsettings-desktop-schemas-dev libpeas-dev libnotify-dev libindicate-dev libindicate-gtk3-dev