The official Virtualbox repository now is ready for Ubuntu 14.04 LTS, which means you can install the app and receive updates from its repository by installing the regular system updates.
Ubuntu 14.04 Trusty has virtualbox 4.3.10, which is the latest so far, in its universe repository. Here's how to add the official Virtualbox repository and keep it up-to-date in Ubuntu 14.04.
To add Virtualbox repository, press Ctrl+Alt+T on keyboard to open terminal and then run:
sudo gedit /etc/apt/sources.list
Add the line below into the end and save the file.
deb http://download.virtualbox.org/virtualbox/debian trusty contrib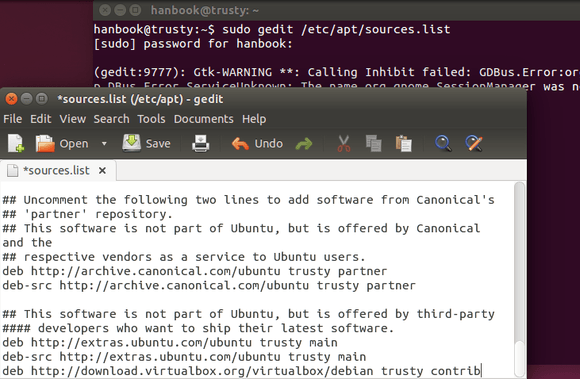 Then run command to download and import the key:
wget -q http://download.virtualbox.org/virtualbox/debian/oracle_vbox.asc -O- | sudo apt-key add -
That's it. You're now able to receive updates of vbox via Software Updater: