The Krita community announced the 2.9.6 release of its painting application recently with lots of bugfixes and a few new features.
According to the release note, Krita now has selection modifiers. They are configured as follows:
Shift+click: add to selection.
Alt+click: subtract from selection.
Shift+alt+click: intersect selection
Ctrl+click: replace selection (for when you have set the
selection mode to something else but replace).
This release also adds possibility to continue a Crop Tool action. The tool-options can now be put into the toolbar. For details, see this page.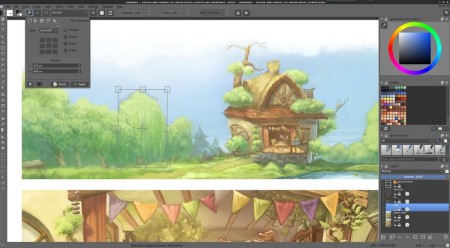 Install Krita 2.9.6 & receive future updates:
Krita Lime PPA provides regular builds of Krita's git master branch, so you get all the latest Krita features without a delay.
To add the PPA, open terminal from the Dash, Launcher, or by pressing Ctrl+Alt+T on keyboard. When it opens, run command:
sudo add-apt-repository ppa:dimula73/krita
After that, update system package cache and install the packages:
sudo apt-get update

sudo apt-get install krita-2.9
Once you have the software installed, you have to run below commands one by one to create launcher, copy icons, and setup soft link to the Krita executable:
cd /opt/project-neon/share/ && sudo cp -r applications/ /usr/share/

cd /opt/project-neon/share/ && sudo cp -r icons/ /usr/share/

sudo ln -s /opt/project-neon/bin/krita /usr/bin/krita
When done, restart your computer.