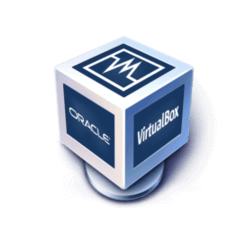 Oracle Virtualbox 5.1.16, a new maintenance release for the 5.1 series, has been released with the most recent Kernel compile fixes.
According to the changelog, Virtualbox 5.1.16 features:
Fix general protection fault when running VBox in KVM.
Another fix for handling certain MSRs on ancient CPUs without VT-x support for MSR bitmaps
Fix errors when restoring a saved state with SMP guests on hosts without the CPUID/HTT bit set
Fix a bug in call gate emulation
FWAIT instruction fix
Fix a sporadic guest hang under certain conditions
Hide the mini-toolbar from the taskbar and the pager on certain X11 hosts
Better error handling on the global settings / network / host-only / DHCP server settings
Fixes for full-screen with multiple screens
Host-only Network: fixed host-only adapter creation issue preventing VirtualBox installation on Windows 10 hosts
NAT network: fixed two potential crashes in the DHCP server
ICH9: fixed incorrect initialization of the primary bus for PCI bridges
Storage: LsiLogic fix for Windows 10
USB: fixed not being able to attach certain USB devices having invalid characters in the device strings
USB: several fixes for the USB/IP support
VBoxSVC: fixed another crash during shutdown under rare circumstances
VBoxSVC: fixed a stack overflow on Windows debug builds only.
OVF: when importing an appliance handle more than 10 network adapters if the OVA was created by VirtualBox
OVF: fixes for exporting and importing appliances with many disks
VBoxManage: fixed regression with modifyhd –resize
rdesktop-vrdp: source code tarball fixes
Linux Installers: do not rebuild kernel modules unnecessarily
Linux hosts: added an action for opening the VM manager window to the .desktop file
Linux hosts / guests: Linux 4.11 compile fixes
Linux Additions: added vboxsf FS modules alias
Linux Additions: fix for the shared folders kernel module to compile on Linux 4.10
Linux Additions: properly install the Linux kernel module override rule on distributions without /etc/depmod.d
Windows Additions: fixed a crash with recent Windows 10 builds if 3D is disabled
Download / Install Virtualbox 5.1.16 in Ubuntu / Linux Mint:
For Ubuntu 12.04, Ubuntu 14.04, Ubuntu 16.04, Ubuntu 16.10, and their derivatives, the DEB packages are available for download at the link below:
For those who want to install and receive future updates via VBox Linux repository, do following steps:
1. Open terminal and run command to add the VBox repository:
sudo sh -c 'echo "deb http://download.virtualbox.org/virtualbox/debian xenial contrib" >> /etc/apt/sources.list.d/virtualbox.list'
Replace xenial in the code via yakkety for Ubuntu 16.10, trusty for Ubuntu 14.04, or precise for Ubuntu 12.04.
2. Then download and install the keys via command:
wget -q -O - http://download.virtualbox.org/virtualbox/debian/oracle_vbox_2016.asc | sudo apt-key add -

wget -q https://www.virtualbox.org/download/oracle_vbox.asc -O- | sudo apt-key add -
3. For those who have a previous 5.1 release installed, now launch Software Updater to upgrade it to the latest: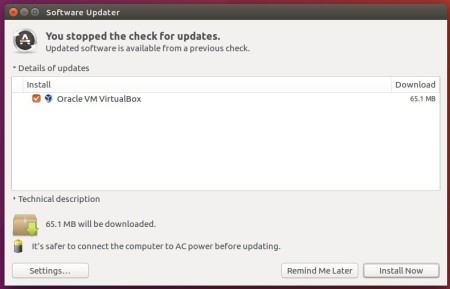 Or run commands to install virtualbox 5.1:
sudo apt-get update

sudo apt-get install virtualbox-5.1