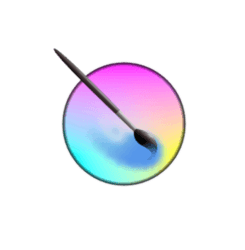 Digital painting software Krita 4.0.3 was released yesterday, and version 4.0.2 was released a few days earlier with numerous bug-fixes.
Krita 4.0.2 fixed more than 50 bugs since the 4.0.0 release, including:
Fix canvas update issues when an animation is being rendered to the cache
Fix playback in isolated mode
Fix keeping "eraser switch size/opacity" option when saving the brush
Fix saving state of the selection masks into .kra
Read multilayer EXR files saved by Nuke
Some crash issue fixes and various user interface improvements.
And Krita 4.0.3 was released with:
sometimes copy and paste between images opened in Krita 4.0.2 would cause crashes
Krita can open .rw2 RAW files
The splash screen is updated to work better on HiDPI or Retina displays
Fix a crash in KisColorizeMask and more.
How to Install Krita 4.0 in Ubuntu:
For Ubuntu 17.10 and Ubuntu 18.04, the new release is available in Krita Lime PPA.
1. Open terminal either via Ctrl+Alt+T or by searching for 'terminal' from app launcher. When it opens, run command to add the PPA:
sudo add-apt-repository ppa:kritalime/ppa
Input your password (no visual feedback while typing) when it prompts and hit Enter.

2. Then install or upgrade Krita via following commands:
sudo apt-get update

sudo apt-get install krita
or upgrade Krita through Software Updater if a previous version was installed.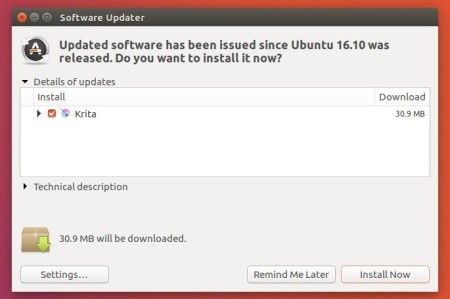 3. (Optional) To remove the PPA repository, launch Software & Updates and navigate to Other Software tab.
To remove Krita, run command:
sudo apt-get remove --autoremove krita
Install Krita in Ubuntu 16.04
The latest Krita package is not made into PPA for Ubuntu 16.04 due to outdated system libraries. However, a single executable Appimage is available for 64-bit system:
Download Krita 4.0 (.appimage)
Grab the .appimage, and run the file to launch Krita after making it executable (Properties -> Permissions).