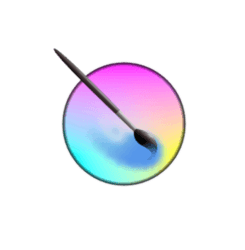 The open-source painting software Krita 4.0.4 was released a few days ago as the fourth bugfix release for Krita 4.0 series.
Here is the list of bug fixes in Krita 4.0.4:
Fix artefacts when painting with a pixel brush on a transparency mask
Fix a race condition when using generator layers
Fix a crash when editing a transform mask
Add preset memory to the Ten Brushes Script, to make switching back and forward between brush presets more smooth.
Improve the performance of the stroke layer style
Do not allow nesting of .kra files: using a .kra file with embedded file layers as a file layer would break on loading.
Keep the alpha channel when applying the threshold filter
Do not use the name of the bundle file as a tag automatically
Fix selecting colors when using the python palette docker script
Restore the last used colors on starting Krita, not when creating a new view
Allow creating a layer group if the currently selected node is a mask
Show the correct opacity in the segment gradient editor
Remove the obsolete shortcuts for the old text and artistic text tool
Allow setting the multibrush angle in fractions
Fix painting of pass-through group layers in isolated mode
Improve performance of loading OpenEXR files
Autosaving will now happen even if Krita is kept very busy
Improve loading of the default language
Fix color picking when double-clicking
Fix inconsistent frame numbering when calling FFMpeg
Fix channel swizzling problem on macOS, where in 16 and 32 bits floating point channel depths red and blue would be swapped
Fix accepting touch events with recent Qt versions
Fix integration with the Breeze theme: Krita no longer tries to create widgets in threads
Fix the batch mode flag when loading images from Python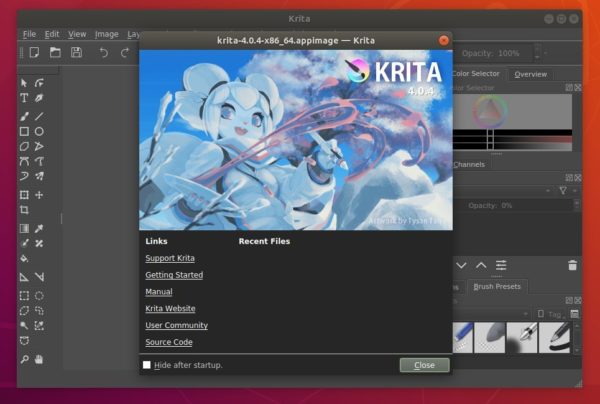 Download / Install Krita 4.0.4 in Ubuntu:
Krita Lime PPA contains Krita packages for Ubuntu 18.04 and Ubuntu 17.10. The latest 4.0.4 packages will be made into the PPA in a few days.
Krita website offers Appimage, a single executable (non-install) file to launch the software. It's available for download at the link below:
Once you get the appimage, do:
Right-click file to go to its Properties -> Permissions.
Check the box that says 'Allow executing file as program'
Finally right-click on the appimage and select Run.