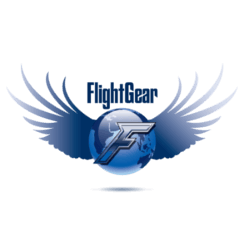 FlightGear flight simulator 2018.2.1 was released more than a week ago. Now it's finally made into PPA for Ubuntu 18.04, Ubuntu 17.10, Ubuntu 16.04, and/or Ubuntu 14.04.
FlightGear 2018.2.1 contains many exciting new features, enhancements and bugfixes, including improved support for addons, improvements to the YASim FDM, and user experience improvements to the launcher.
Cessna 550 Citation II – detailed modelling of avionics, improved MP model display, improved flaps modeling
Cessna Citation X – avionics improvements, improved MP model display
North American P-51 Mustang
Piper J3 Cub – improvements to water behaviour
Saab 37 Viggen – Autopilot, HUD and TI improvements
Cessna 172P – FDM, 3D Model, Sound improvements
FG1000 glass panel display, based on the Garmin G1000
How to Install FlightGear 2018.2 in Ubuntu:
The software has a PPA repository contains FlightGear packages for all current Ubuntu releases.
1. Open terminal either via Ctrl+Alt+T keyboard shortcuts and by searching for "terminal" from application launcher. When it opens, run command to add the PPA:
sudo add-apt-repository ppa:saiarcot895/flightgear
Input your password (no visual feedback) when it prompts and hit Enter.
2. Then upgrade FlightGear via Software Updater, if a previous version exists.
or run command in terminal to install or upgrade the flight simulator:
sudo apt-get update

sudo apt-get install flightgear
Uninstall:
To remove FlightGear flight simulator, either use your system package manager or run command:
sudo apt-get remove --autoremove flightgear
And launch Software & Updates -> Other Software tab to remove the PPAs.