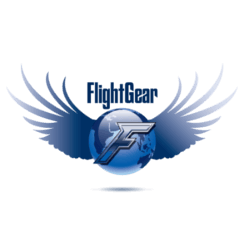 FlightGear 2018.3 was finally released with many exciting new features, enhancements and bugfixes including usability improvements to the launcher, better visuals for AI and MP aircraft.
FlightGear 2018.3 release highlight according to the changelog:
Flightplan loading within the launcher.
Chinese, Russian and Italian translations for the launcher and UI
Improved support for the state of the aircraft depending on starting location
Improved joystick configuration and binding options.
Multiple Levels of Detail (LoD) for MP and AI aircraft. To improve performance, low-detail models are used when the viewer is far from the MP aircraft.
Fallback models to display in the case where a viewer does not have the MP aircraft installed.
Many improvements to AI models including new liveries, timetabled movements
Support for retrieving Canvas images over HTTP.
Improved cloud rendering with stronger Mie scattering on cloud fringes, improved scattering on cirrus clouds
Improved scenery for Hawaii, the default location for this release.
New scenery for Jan Mayen, situated northeast of Iceland. Including the active volcano of Beerenberg (2277m).
FG1000 glass panel display, based on the Garmin G1000
Improved Replay handling of AI aircraft and carriers – judge your own carrier landings.
KC-130 tanker aircraft for air-to-air refueling
Significant Aircraft updates
Download / Install FlightGear in Ubuntu:
For Ubuntu 16.04, Ubuntu 18.04, and higher, FlighGear 2018.3 will be available to install either via Ubuntu PPA, or Flathub repository (run in sandbox).