The first bugfix release for the digital painting software Krita 2.9, was announced today. The new release brings the latest G'Mic plugin, improves the filter layer layout, and fixes a few bugs
Here's the changelog according to the release note:
Fix the outline cursor on CentOS 6.5
Update G'Mic to the very latest version (but the problems on Windows are still not resolved)
Improve the layout of the filter layer/⁠mask dialog's filter selector
Fix the layout of the pattern selector for fill layers
Remove the dependency of QtUiTools, which means that no matter whether the version Qt installed and the version Qt Krita was built agast differ, the layer metadata editors work
Fix a bug that happened when switching between workspaces
Fix bug 339357: the time dynamic didn't start reliably
Fix bug 344862: a crash when opening a new view with a tablet stylus
Fix bug 344884: a crash when selecting too small a scale for a brush texture
Fix bug 344790: don't crash when resizing a brush while drawing
Fix setting the toolbox to only one icon wide
Fix bug 344478: random crash when using liquify
Fix bug 344346: Fix artefacts in fill layers when too many parallel updates happened
Fix bug 184746: merging two vector layers now creates a vector layer instead of rendering the vectors to pixels
Add an option to disable the on-canvas notification messages (for some people, they slow down drawing)
Fix bug 344243: make the preset editor visible in all circumstances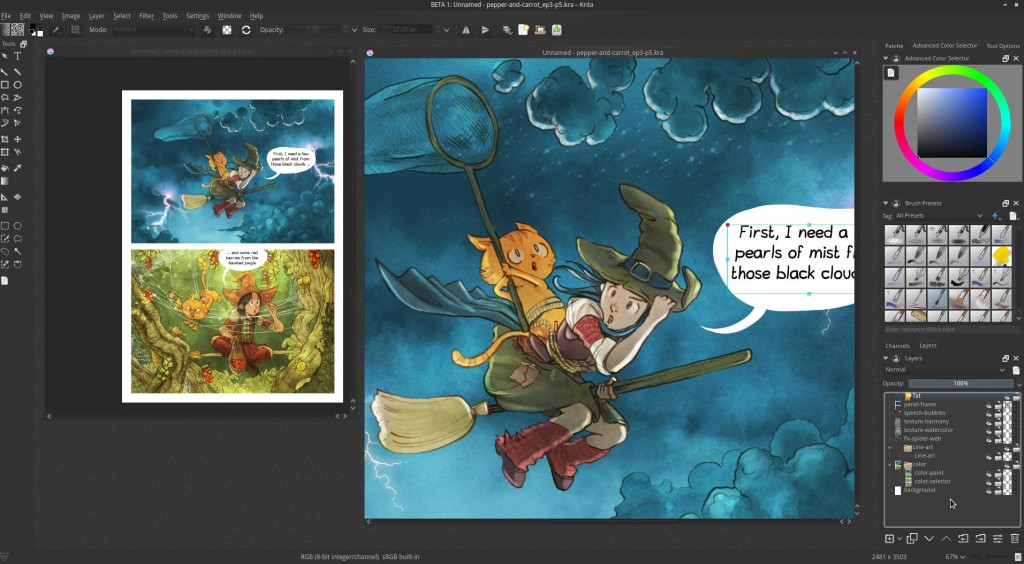 The developers now are working the Photoshop layer style Kickstarter feature. The goal is to have this feature done for Krita 2.9.2, which should be out next month.
To install or upgrade to Krita 2.9.1, see this page.