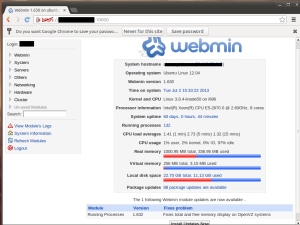 Want to manage your Ubuntu server remotely with a graphical user interface? Maybe webmin is good choice! Here I'm going to show you how to install it on Ubuntu 12.04 Server and higher.
Webmin is a web-based interface for system administration for Unix. Using any modern web browser, you can setup user accounts, Apache, DNS, file sharing and much more. Webmin removes the need to manually edit Unix configuration files like /etc/passwd, and lets you manage a system from the console or remotely.
To install Webmin, follow the steps below:
1.) Run command to download the Deb package:
wget http://prdownloads.sourceforge.net/webadmin/webmin_1.650_all.deb
2.) Install the package:
sudo dpkg -i webmin_1.650_all.deb
3.) All dependencies can be resolved by this command:
sudo apt-get -f install
After webmin is installed, go to https://your-ubuntu-serverip:10000 in your web browser, login with an administrator account and password.

Enjoy!