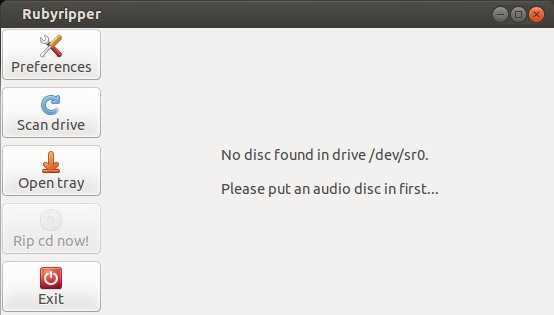 This tutorial shows you how to install latest Rubyripper on Ubuntu 13.04, 12.10, 12.04, 10.04 and Linux Mint, and old versions on Ubuntu 11.10, 11.04, 10.10.
Rubyripper is a secure audiodisc ripper for Linux and OS X. It uses cdparanoia in a sophisticated way to make sure that a CD rip is done successfully and accurately. It is very similar to and inspired by EAC. Rubyripper is written in the ruby programming language.
To install it, follow the below steps:
1.) Download getdeb package, then double-click to install. It adds the getdeb repository to your system.
Download getdeb package
2.) Install Synaptic Package Manager from Ubuntu Software Center, then open it. Click on Reload button to update package lists. Finally search for and mark to install rubyripper:

NOTE: For Linux Mint users, run this fix before step 2.
Go to Synaptic Package Manager -> Settings -> Repositories -> Other Software Center, scroll down to find out "http://archive.getdeb.net olivia-getdeb/apps". Highlight this line and click edit:
Linux Mint 13: change from maya to precise-getdeg
Linux Mint 14: change from nadia to quantal-getdeb
Linux Mint 15: change from olivia to raring-getdeb