This simple tutorial is going to show you how to install StarDict and set up dictionaries on Ubuntu System. It's useful for students and others.
StarDict is a free dictionary lookup program. Works on Windows, Linux and Mac, off-line or international.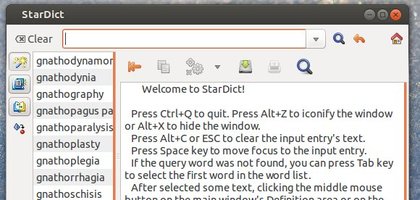 Install StartDict:
Search for and install stardict package in Ubuntu Software Center. Works on Ubuntu 13.10 Saucy, 13.04 Raring, 12.10 Quantal, 12.04 Precise, and 10.04 Lucid.

Download and install dictionaries:
You can download Babylon (.bgl) dictionaries from: http://www.babylon.com/free-dictionaries/. If instead of .bgl files you are getting .exe installers, use 7Zip to extract them.
To setup dictionaries for StarDict, extract the downloaded packages and move them into /usr/share/stardict/dic/.
Press Alt+F2, type and run gksudo nautilus to open file browser as root, then do the previous copy and paste things.
Enjoy!