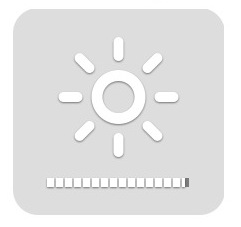 As your may know, every time Ubuntu boots up you get the maximum level of screen brightness on laptop. Here's a way to save your brightness by adding a startup script which will automatically adjust screen brightness when Ubuntu boots up.
Tutorial Objectives:
Save your screen brightness in Ubuntu 13.10
Enjoy!
To get started, press Ctrl+Alt+T on your keyboard to open terminal. When it opens, run commands below:
cat /sys/class/backlight/acpi_video0/max_brightness
It outputs the maximum level of your laptop backlight. Mine is 9. The minimum is 0.
Run command below to edit the /etc/rc.local file, which is a script executed at the end of each multiuser runlevel.
sudo gedit /etc/rc.local
Add following before the last line. Change 0 to the brightness level as you want (from 0 to the max)
echo 0 > /sys/class/backlight/acpi_video0/brightness