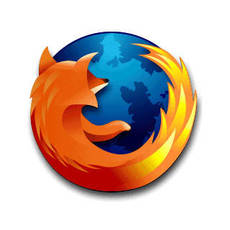 Mozilla Firefox has just released version 32.0 with improved performances and a few fixes. Canonical has made this release into the updates & security repositories for Ubuntu 14.04 and Ubuntu 12.04.
The latest Firefox 32 brings was released on September 2, with faster HTTP caching and public key pinning support enabled.
Below are the detailed changes (via the official release note):
New HTTP cache provides improved performance including crash recovery
Integration of generational garbage collection
Public key pinning support enabled
Display the number of found items in the find toolbar
Easier back, forward, reload, and bookmarking through the context menu
View historical use information for logins stored in password manager
Lower Sorbian [dsb] locale added
Removed and turned off trust bit for some 1024-bit root certificates
Performance improvements to Password Manager and Add-on Manager
drawFocusIfNeeded enabled by default
CSS position:sticky enabled by default
mix-blend-mode enabled by default
Vibration API updated to latest W3C spec
box-decoration-break enabled by default
ECMAScript 6 built-in method Array#copyWithin implemented
New Array built-in: Array.from()
navigator.languages property and languagechange event implemented
CSS box-decoration-break replaces -moz-background-inline-policy
HiDPI support in Developer Tools UI
Inspector button moved to the top left
Hidden nodes displayed differently in the markup-view
New Web Audio Editor
Code completion and inline documentation added to Scratchpad
Mac OS X: fixed cmd-L does not open a new window when no window is available
Fixed text Rendering Issues on Windows 7 with Platform Update KB2670838 (MSIE 10 Prerequisite) or on Windows 8.1
Various security fixes
Upgrade to Firefox 32 in Ubuntu:
For Ubuntu, open Software Updater (or Update Manager for Ubuntu 12.04) from Unity dash. After checking for updates, you'll see the latest Firefox available in the list.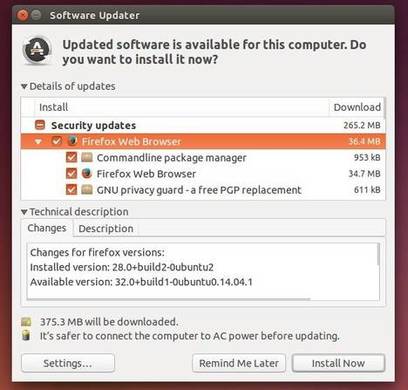 You can also upgrade Firefox in Ubuntu and its derivatives using Synaptic Package Manager (available in Software Center) after clicked the Reload button.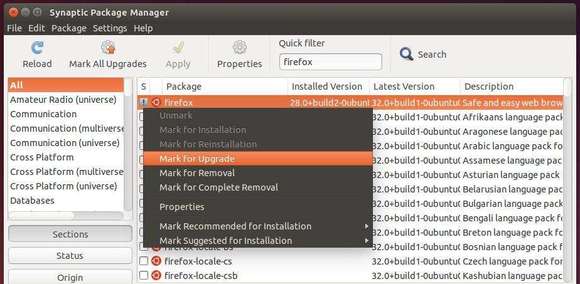 That's it. Enjoy!