Liferea finally announced the first release candidate for the next stable release line 1.14. Here's the new features and Ubuntu PPA packages.
Linux Feed Reader, Liferea in short, is a GTK3 new reader for Linux. It's in the 1.13 pre-release series for more than 2 years, until released 1.14 RC1 few days ago.
The new release fixed an annoying bug that certain desktop environments or themes may make the pane invisible and hard to restore.
Now Liferea will never allow the panes to be smaller than 5% in height or width regarding to there orientation. If a pane is smaller than 5% height/width it will be set to 30% width or 50% height on startup.
Other changes in Liferea 1.14 rc1 include:
Supports gtk-application-prefer-dark-theme based dark mode switching.
Add search rule to find items from a given author.
Exported OPML feed lists are now UTF-8 encoded for better readability.
Render <media:description> field for Youtube feeds
Updated default feed sources from HTTP to HTTPS.
Add new "podcast" search folder rule.
Also add enclosures when saving items to file.
How to Install Lifera 1.4 RC1 in Ubuntu:
For Ubuntu based user prefer the classic .deb package, here's the unofficial PPA contains the new packages for Ubuntu 20.04 and Ubuntu 22.04.
1. First, press Ctrl+Alt+T on keyboard to open terminal. When it opens, run command below to add the PPA:
sudo add-apt-repository ppa:ubuntuhandbook1/apps

2. Next, either update the feed reader from an existing release via "Software Updater" or run command below to install it:
sudo apt install liferea
NOTE: Linux Mint user need to first run sudo apt update to refresh package cache manually.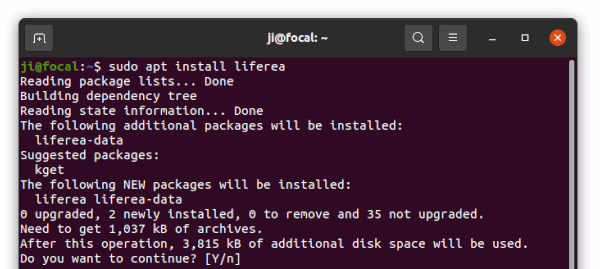 NOTE: Liferea still shows v1.13.9 in about dialog for unknown reason. Unknown if it's building issue or a software bug, and I've report it to the project page.
Uninstall:
For any issue, you may uninstall the PPA repository by running the command below in terminal:
sudo add-apt-repository --remove ppa:ubuntuhandbook1/apps
And remove the Liferea news reader either via your system package manager or by running command below in terminal:
sudo apt remove --autoremove liferea liferea-data