The JoliCloud Desktop Environment finally is available for Ubuntu 12.04 Precise, 13.04 Raring and 12.10 Quantal. Here's how to install it via ppa repository.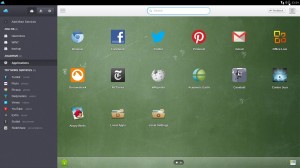 As you may know, JoliCloud Desktop Environment puts a HTML5 launcher with shortcuts to popular websites and services front and center, such as Facebook, Twitter, Gmail, Wikidedia, Angry birds, and more.
Install JoliCloud Desktop
To get started, press Ctrl+Alt+T on your keyboard to open terminal. When it opens, run below command to add the JoliCloud official ppa repository:
sudo add-apt-repository ppa:jolicloud-team/ppa

After that, update the package lists to make it avaiable and finally install the session. To do so, run below command:
sudo apt-get update; sudo apt-get install jolicloud-desktop-environment

Once installed, log out current session. Click on the gear icon and choose Jolicloud for Ubuntu login.