This simple tutorial is going to show you how to install Subsonic Music Streamer 4.8 on Ubuntu 13.04 Raring, 12.10 Quantal, 12.04 Precise.
Subsonic is open-source, web-based media streamer, providing ubiquitous access to your music and video collection. It supports most media formats, such as MP3, OGG, AAC and any other audio or video format that streams over HTTP.
Features:
Enjoy your music and movies no matter where you are. Share with family and friends.
Browse and manage your media collection with the user-friendly web interface.
Stream music to Android, iPhone and Windows Phone.
Subsonic apps available for Roku, BlackBerry Playbook and many more.
Convert and stream lossless music on the fly.
Manage 100,000+ files in your music collection without hassle.
Download and listen to Podcasts.
Get cover art, lyrics, reviews and other album info from Google, Chartlyrics, allmusic and Wikipedia.
Install Subsonic:
The official website provides the DEB installer for Ubuntu users. It can be download by clicking the below link:
Subsonic requires Java, so first install OpenJDK from Ubuntu Software Center or Oracle Java from ppa.
Then double-click on the downloaded DEB package and select install on Ubuntu Software Center. Click 'Ignore and install' if you get the below dialog.

Change user:
By default the Subsonic process is run as the root user. To improve security it is strongly advised that you run it as a dedicated user with less powerful privileges. You can specify this user by setting the SUBSONIC_USER variable in /etc/default/subsonic.
To do so, press Alt+F2, type in gksudo nautilus to open file browser with root permission. Then change username to yours in the picture.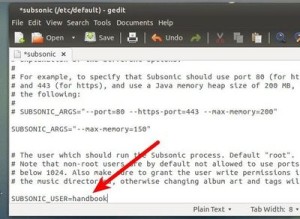 Note that non-root users are by default not allowed to use ports below 1024. Also make sure to grant the user write permissions in the music directories, otherwise changing album art and tags will fail.
After all, restart your computer and open the Subsonic web page on http://localhost:4040.