If the brightness controls don't works in your system or you're not satisfied with the default Fn function key, here's an app indicator allows to change screen brightness in all the possible brightness values. The applet works in Ubuntu and its derivatives, such as Linux Mint and Elementary OS Luna.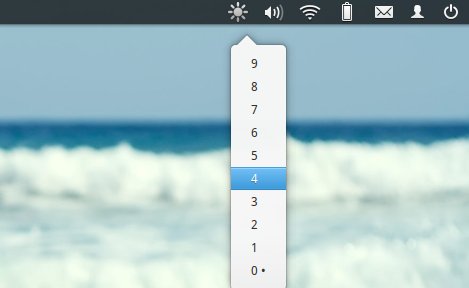 It's useful for me because the Fn+Arrow key in my laptop only change the brightness in 4 levels (zero, one third, two-thirds, full).
Features:
Clicking the icon shows you all the possible brightness values, to a maximum of 15 steps.
The current value is indicated with a dot.
Clicking a menu item sets the brightness to the desired value.
Scroll wheel event is enabled on the icon. Scrolling up means higher brightness, scrolling down lower.
Control screen brightness with custom keyboard shortcuts.
Install Brightness Indicator:
Press Ctrl+Alt+T on your keyboard to open terminal. When it opens, run below commands one by one to install the indicator from PPA:
sudo add-apt-repository ppa:indicator-brightness/ppa

sudo apt-get update

sudo apt-get install indicator-brightness
Or you can download the .deb package and double-click to install it from Launchpad.net
Once installed, open it from the app menu. Add these commands to your custom keyboard shortcuts to control brightness with your keyboard. You need Elementary Tweak to add a custom shortcut key.
/opt/extras.ubuntu.com/indicator-brightness/indicator-brightness-adjust --up
and:
/opt/extras.ubuntu.com/indicator-brightness/indicator-brightness-adjust --down