The Music Player Clementine 1.2 is coming with cloud services. It adds support for Subsonic, indexing & playing music from Box, Dropbox, Skydrive, and Ubuntu One. Add remote control support for Android and Playlist tab to the sidebar.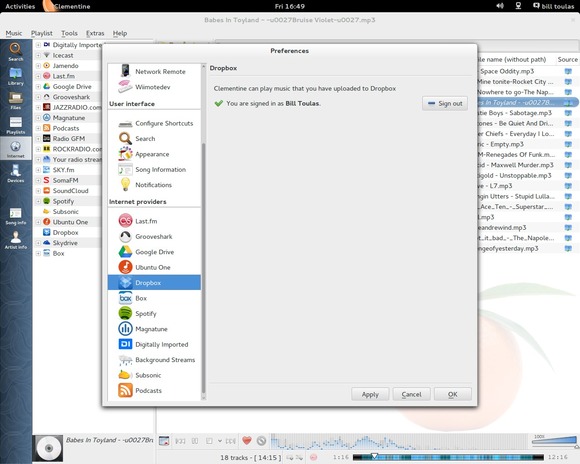 As well as the above main features, Clementine 1.2 also contains below new features:
Add configurable blur & opacity to album art when used as a playlist background.
Support Opus where available.
Support .mka and .oga file extensions.
Parsing support for WPL playlists.
Sort providers by user preference.
Add year and bitrate to MPRIS2 messages.
Add "not equals" operator to fields in the smart playlist wizard.
Add an option to write ratings, play count and scores to files.
Add options to show the rating and score on the OSD.
Add support for POPM tags.
Add support for FMPS tags in Ogg, FLAC, MP4 and ASF files.
Compile the bundled Taglib with ASF, MP4 and Opus support.
Make it possible to cancel cover searches.
Add an option to resume playback on startup.
Add support for Performer and Grouping tags.
Add Radio GFM.
Add an Apply button to the settings dialog.
Make it possible to mark all episodes of a podcast as new/listened.
Add an option for fading in/out on pause/unpause.
Add stereo balance slider to the equalizer.
Add a –restart-or-previous commandline flag.
Allow files to be transcoded directly from the playlist.
Export downloaded album covers
see changelog
Although this is not officially 1.2 yet, it already works completely flawless Clementine 1.2 stable is out! Packages for Ubuntu 13.04, Ubuntu 12.04, Ubuntu 12.10, Debian wheezy, squeeze, Fedora, Windows are ready!
Download Clementine on Google Code
You can also add the Clementine PPA to get it on your Ubuntu system when it's ready. Press Ctrl+Alt+T on your keyboard to open terminal. When it opens, run below commands one by one:
sudo add-apt-repository ppa:me-davidsansome/clementine
sudo apt-get update
sudo apt-get install clementine
Enjoy!