This tutorial is going to show you how to install Format Junkie media converter in Ubuntu 13.10 Saucy, while its PPA is not ready.
As you may know, Format Junkie is a program that can convert your media files (audio files, videos and pictures) to all the popular formats! It supports:
Conversion between the audio formats: mp3, mp2, wav, ogg, wma, flac, m4r, m4a and aac
Conversion between the video formats: avi, ogv, vob, mp4, vob, flv, 3gp, mpg, mkv, wmv
Conversion between the image formats: jpg, png, ico, bmp, svg, tif, pcx, pdf, tga, pnm
Create an iso with selected files, convert iso to cso and vice versa.
Encode subtitles to an avi file.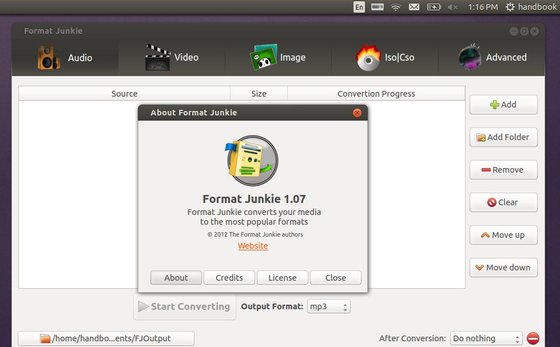 Install Format Junkie:
For Ubuntu 13.04, Ubuntu 12.10, Ubuntu 12.04, Linux Mint 13/14/15, Elementary OS Luna, you can install it from Format Junkie PPA by running below commands one by one in terminal (Ctrl+Alt+T):
sudo add-apt-repository ppa:format-junkie-team/release

sudo apt-get update

sudo apt-get install formatjunkie
For Ubuntu 13.10 Saucy, press Ctrl+Alt+T on your keyboard to open terminal. When it opens, run command to download DEB for raring:
for 32-bit system:
wget https://launchpad.net/~format-junkie-team/+archive/release/+files/formatjunkie_1.07-1~raring0.2_i386.deb
for 64-bit system
wget https://launchpad.net/~format-junkie-team/+archive/release/+files/formatjunkie_1.07-1~raring0.2_amd64.deb
Both 32-bit & 64-bit install the Deb via:
sudo dpkg -i formatjunkie_1.07-1*.deb; sudo apt-get -f install