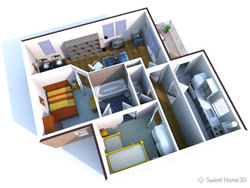 The free architectural design software Sweet Home 3D 4.3 has been released recently. This release mainly fixed 3D view bugs and added a Windows 32-bit / 64-bit installer.
Many users reported in version 4.2 a problem with a 3D view that sometimes remained empty. The developer has fixed that bug, as well as other bugs related to detaching / attaching the 3D view from / to the main window in multiple screens environment. Thus, this release should now work much better in such an environment.
The Windows installer now embeds both the 32-bit & 64-bit version of Sweet Home 3D. It will automatically install the right version on your system. If you upgrade from a previous version and use 64-bit Windows, it's better to uninstall Sweet Home 3D first in case you installed the previous version in its default folder.
Sweet Home 3D 4.3 ChangeLog:
Fixed bugs that prevented the 3D view to be displayed when it was saved as detached, on one screen and multiples screens.
Fixed a font issue that didn't display correctly Chinese text in the plan under Windows and Linux.
Fixed a bug that prevented to elevate the camera in Sweet Home 3D Viewer applet.
Fixed a bug that didn't initialize the Staircase check box in the furniture import wizard when an imported 3D model is modified.
Fixed a bug that prevented to display correctly some floor rooms in the 3D view when they overlap.
Fixed the display of texts in catalog furniture tool tips under Java 5.
Fixed a bug that froze the program for some colored background images under Mac OS X with Java 7.
Fixed some unexpected behaviors when furniture is dragged from the catalog under Mac OS X with Java 7.
Improved performances of the 3D view in the Java Web Start and JAR executable versions run under Mac OS X with Java 7.
Accepted % and # characters in dependencies of OBJ and DAE files.
Created a 32-bit / 64-bit Windows installer which installs the 64-bit version of Sweet Home under 64-bit Windows, and its 32-bit version otherwise.
Displayed the 32-bit / 64-bit data model of the running version in the About dialog box.
Other minor bugs fixes and enhancements.
Install Sweet Home 3D:
Packages for Windows, Linux, Mac OS are available in this page.
For Ubuntu 13.10, Ubuntu 12.04, Linux Mint and Elementary OS, we can install it from GetDeb repository:
1. press Ctrl+Alt+T on keyboard to open terminal.
2. Edit the source file by:
sudo gedit /etc/apt/sources.list.d/getdeb.list
3. For Ubuntu 13.10 add below line into the file, change saucy to precise for Ubuntu 12.04 and its derivatives:
deb http://archive.getdeb.net/ubuntu saucy-getdeb apps
4. Download & install the key:
wget -q -O- http://archive.getdeb.net/getdeb-archive.key | sudo apt-key add -
5. Check for updates and install Seet Home 3D:
sudo apt-get update

sudo apt-get install sweethome3d
That's it.