Popcorn Time, a free and open-source torrent streaming service, becomes stable since release 0.3.1
Popcorn Time allows you to watch movies, TV shows easily streaming from torrents, without any particular knowledge. It's a good alternative if Netflix is not supported in your country.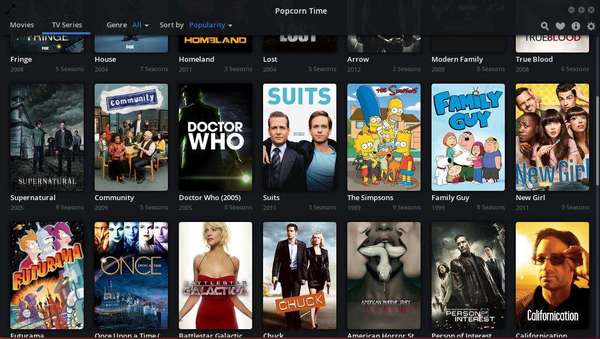 Popcorn Time Currently used:
YIFY movie torrents API.
YifySubtitles for movie subtitles
OpenSubtitles for tv shows subtitles
Trakt.tv for movies metadata.
EZTV for TV Show torrents
The first stable version was release a few days ago with below features added:
mirror failback to yify subtitles.
icons and links to about dialog
methods to mark movie as watched
quality filter for movies
Advanced Settings with Connection, DHT, Tmp Folder options
Pressing ESC to closes modals
a help view for keyboard shortcuts. Press ?
Draggable subtitles. Move subtitles around the player
Drag and drop subtitles on the player to load a custom SRT file
Better init screen
Added Croatian, Thai and Vietnamese languages
Install Popcorn Time in Ubuntu 14.04:
This repository is currently disabled due to a DMCA takedown notice.
Downloading copyrighted material may be illegal in your country. Use at your own risk.
Thanks to Webupd8 Team, a script has been made into the PPA to automatically download the Linux package from Popcorn Time website and install it on your Ubuntu. Currently, Ubuntu 14.10, Ubuntu 14.04, Ubuntu 13.10, Ubuntu 12.04 and Ubuntu 12.10 are supported.
To install it, press Ctrl+Alt+T on keyboard to open the terminal. When it opens, run the commands below one by one:
sudo add-apt-repository ppa:webupd8team/popcorntime

sudo apt-get update

sudo apt-get install popcorn-time
When the script starts, you'll be asked to accept the licence.
Popcorn Time on github: https://github.com/popcorn-official/popcorn-app