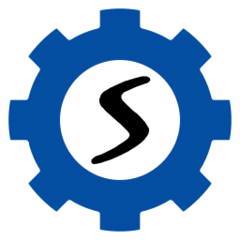 For those who are running Ubuntu on Samsung Laptops, samsung-tools is a strongly recommended application that brings a better Ubuntu experience.
Samsung-tools is an open source project that enables control in a friendly way of the devices available on Samsung laptops (bluetooth, wireless, webcam, backlight, CPU fan, special keys) and the control of various aspects related to power management, like the CPU undervolting (when a PHC-enabled kernel is available).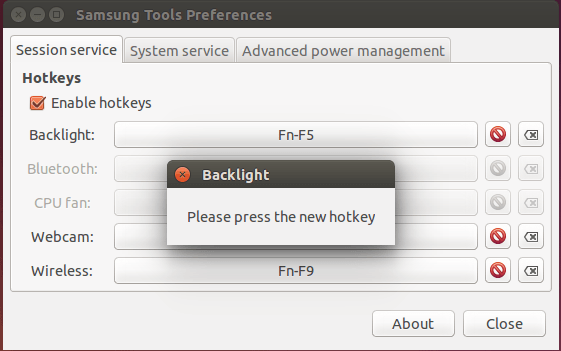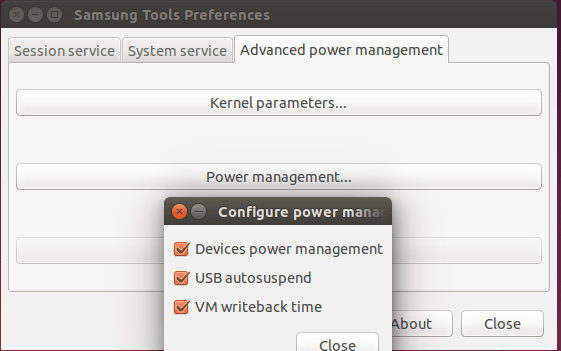 Install Samsung Tools in Ubuntu:
This app is available in the developer's PPA for Ubuntu 14.04, Ubuntu 13.10, Ubuntu 12.04, Ubuntu 10.04 and their derivatives.
To install it, press Ctrl+Alt+T on keyboard to open the terminal. When it opens, run the commands below one by one:
sudo add-apt-repository ppa:voria/ppa

sudo apt-get update

sudo apt-get install samsung-tools
For any questions, you can go to the forum that discusses about Linux installation and configuration on Samsung laptops
(Optional) To remove samsung-tools, run:
sudo apt-get remove samsung-tools && sudo apt-get autoremove