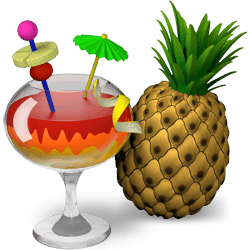 While Ubuntu repositories only provide an old version, the popular Handbrake video transcoder has reached the 0.10.1 release for a while. And there are hundreds of new features, changes, and bug fixes in the new releases.
At the moment, the official Handbrake PPA does not contain the packages for Ubuntu 15.04. We can alternatively install Handbrake 0.10.1 in Vivid either from Marc Deslauriers's PPA (unofficial) with black widgets fixes or using the official .deb installer for Ubuntu 14.10 Utopic.
Install HandBrake 0.10.1 from Marc Deslauriers's PPA
Open terminal from the Dash or by pressing Ctrl+Alt+T on keyboard. When it opens, run below commands one by one:
sudo add-apt-repository -y ppa:mdeslaur/handbrake

sudo apt-get update

sudo apt-get install handbrake
The packages in the PPA were built with Unity's Overlay Scrollbars disabled to fix the blank widgets (see picture above) issue.
Install HandBrake 0.10.1 using .deb for 14.10 Utopic:
If you want download the .deb installer for 14.10 from the links below:
Once downloaded, open the package with Ubuntu Software Center from its context (right-click) menu and click install it.
To manually fix the blank widgets issue, disable overlay scrollbar for Handbrake only by running below command to edit its .desktop file:
gksudo gedit /usr/share/applications/ghb.desktop
Install gksu from Software Center if the command doesn't work. When the file opens, change the value of Exec to env LIBOVERLAY_SCROLLBAR=0 ghb %f so it look likes: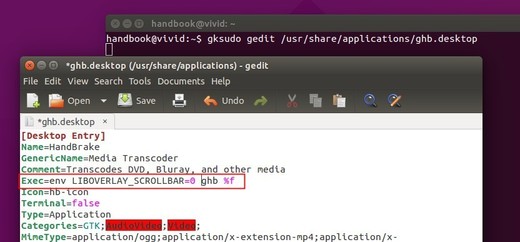 That's it. Enjoy!