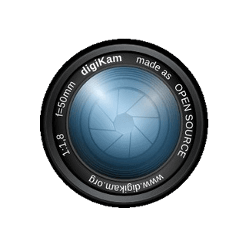 After one month of development, the digiKam team announced the release of its photo management software digiKam 5.1.0 last night with new RAW cameras support and bug fixes.
DigiKam 5.1.0 brings a new huge bugs triage and some fixes, LibRaw 0.18 to support new lead RAW cameras, Mysql database interface consolidation, speed-up startup operation. Also the option to enable or disable the scan for new items at startup is back in Setup/Miscs dialog page.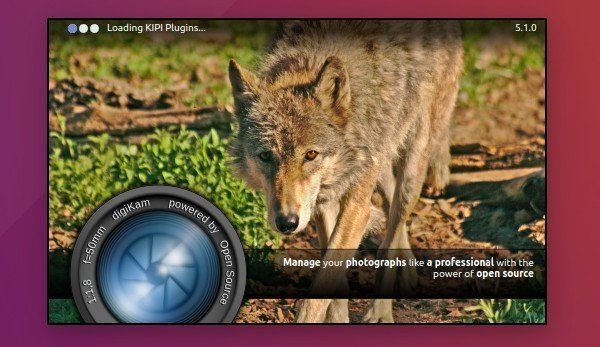 New supported RAW cameras in Digikam 5.1.0:
Canon 80D, 1300D, 1DX MkII
Fujifilm X-Pro2, X70, X-E2S
HTC One A9 and M9
Leica M and X-U
Nikon D5
Olympus Pen F, SH-3
Panasonic DMC-GX80/85, DMC-TZ80/81/85/ZS60, DMC-TZ100/101/ZS100
PhaseOne IQ150, IQ180 IR, IQ3
Samsung Galaxy S7
Sony ILCA-68, ILCE-6300, RX1R II, RX10 III
Install / upgrade to digiKam 5.1.0 in (K)Ubuntu 16.04:
1. Add Philip Johnsson's PPA
Open terminal (Ctrl+Alt+T) and run command to add the PPA:
sudo add-apt-repository ppa:philip5/extra
Type in your password (no visual feedback) when prompts and hit Enter.

2. install or upgrade digiKam.
For those who have the previous 5.0 release installed, launch Software Updater and upgrade digiKam to 5.1.0 release after checking for updates.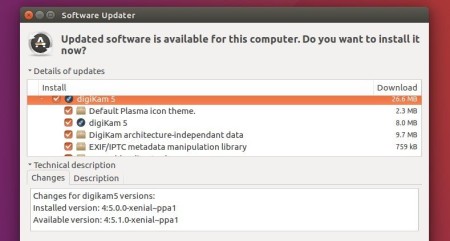 Or just run commands below one by one in terminal to update package index and install/upgrade the software:
sudo apt update

sudo apt install digikam5
3. (Optional) Remove digiKam 5.1.0
To remove the software, use Synaptic Package Manager or simply run apt command with remove flag:
sudo apt remove digikam5 && sudo apt autoremove
And the PPA can be removed or disabled via Software & Updates utility under Other Software tab.