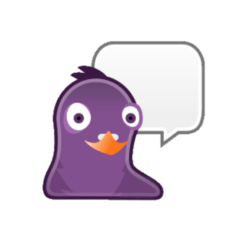 The Pidgin internet messenger 2.12 was released a few days ago on last Thursday. Here's how to install it via PPA in Ubuntu 16.04.
After 9 months of development, Pidgin 2.12 brings following changes:
Fix an out of bounds memory read in purple_markup_unescape_entity
Fix use of uninitialised memory if running non-debug-enabled versions of glib
Updated AIM dev and dist ID's to new ones that were assigned by AOL.
TLS certificate verification now uses SHA-256 checksums.
Fixed SASL external auth for Freenode.
Removed the protocol plugin: MSN, Mxit, MySpaceIM, Yahoo!, Facebook (XMPP)
Fixed gnutls certificate validation errors that mainly affected google (Dequis)
Replaced instances of d.pidgin.im with developer.pidgin.im and updated the urls to use https.
Fixed issue of messages being silently cut off at 500 characters.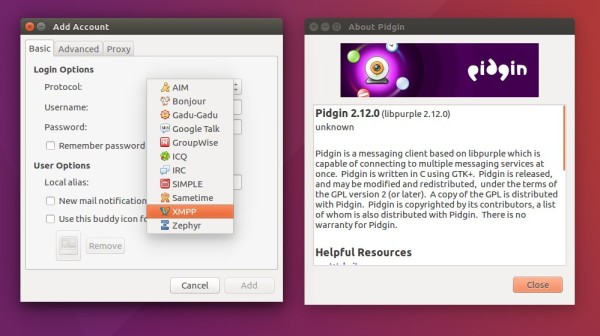 How to Install Pidgin 2.12 in Ubuntu 16.04, Linux Mint 18
The official Pidgin PPA was dropped years ago. Besides building the new release from source, you can use this third-party PPA
1. Open terminal (Ctrl+Alt+T) and run command to add the PPA:
sudo add-apt-repository ppa:jonathonf/backports

2. Then launch Software Updater and you'll see Pidgin 2.12 available for upgrade: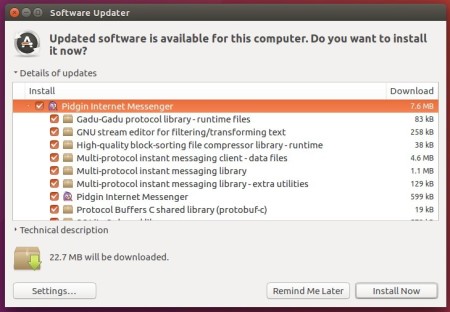 Or you can run command to install / upgrade the messenger:
sudo apt update && sudo apt install pidgin
Finally restart your computer to apply changes.
How to Restore:
To restore Pidgin to the stock version (2.10.12) in Ubuntu 16.04, run command to purge the PPA via ppa-pure tool:
sudo apt install ppa-purge && sudo ppa-purge ppa:jonathonf/backports
If you want to keep the Pidgin 2.12 in your system, you may also remove the PPA since it contains various other (low impact) packages, either via Software & Updates -> Other Software tab or by running command:
sudo add-apt-repository --remove ppa:jonathonf/backports