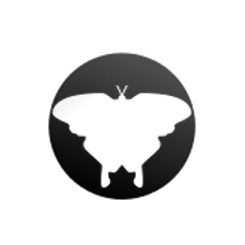 Qmmp, a Qt-based music player with winamp or xmms like interface, reached the new major 1.2.0 (and 0.11.0 for Qt4) release with many new features, improvements, and some bug-fixes.
Changes in Qmmp 1.2.0 (0.11.0) include:
added archive reader plugin (requires TagLib >= 1.11), file writer plugin, and icecast output plugin
added feature to disable notifications when another application is in the full screen mode
added cover tab to the track details dialog
added '--volume-status' and '--mute-status' command-line option
added feature to change user interface from command line
added parent directory name to the title formatting fields
added cache to the lyrics plugin
added feature to clear window title when playback is finished
added 'Raise' method implementation to the mpris plugin
added mount point list to the file dialog (1.2.0 only)
improved plugin API, cover cache, visualization support
improved aac plugin, sndfile plugin, mpeg,plugin, qsui plugin, audio format determination in the ffmpeg plugin
improved m3u, pls and xspf support
improved DirectSound and WASAPI support
added lame header and gapless support
improved file type determination
added quick search to the playlist and the file system browser
added feature to change toolbar icon size
added record button
added cover image alignment
reduced memory usage
improved settings
fixed memory leaks
fixed FVWM support (0.11.0 only)
translation updates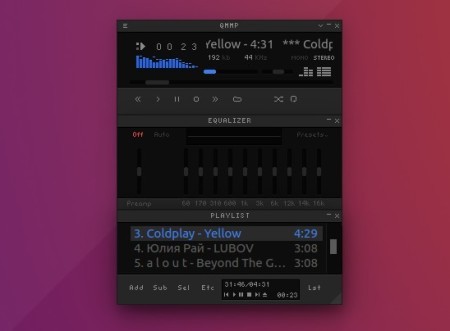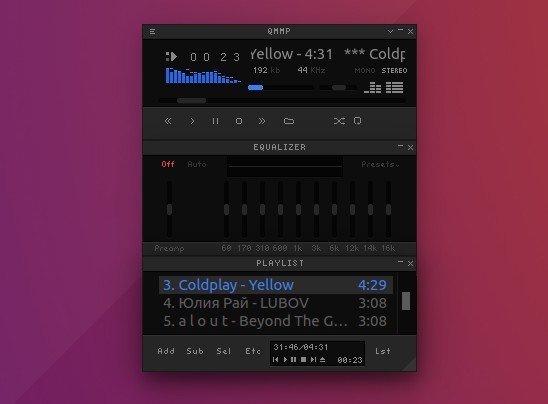 How to Install Qmmp 1.2.0 (0.11.0) in Ubuntu:
Qmmp has an PPA repository that offers the latest packages for Ubuntu 12.04, Ubuntu 14.04, Ubuntu 16.04, Ubuntu 17.04, Ubuntu 17.10, and their derivatives.
1. Open terminal via Ctrl+Alt+T or from app launcher, and then run command to add the PPA:
sudo add-apt-repository ppa:forkotov02/ppa

2. Then update and install Qmmp and its plugins:
sudo apt-get update

sudo apt-get install qmmp qmmp-plugin-pack
The commands install Qmmp 1.2.0 (Qt5 version) in Ubuntu 16.04 & higher, and Qmmp 0.11.0 (Qt4 version) in Ubuntu 14.04 & Ubuntu 12.04.
For Ubuntu 16.04 and higher users who want to install Qmmp 0.11.0 (Qt4 version), run following commands instead:
sudo apt-get update 

sudo apt-get install qmmp-qt4 qmmp-plugin-pack-qt4
Uninstall:
You can manage the PPA repository via Software & Updates utility, under Other Software tab.
To remove Qmmp music player, either use your system package manager or run command:
sudo apt-get remove --autoremove qmmp qmmp-qt4 qmmp-plugin-pack qmmp-plugin-pack-qt4