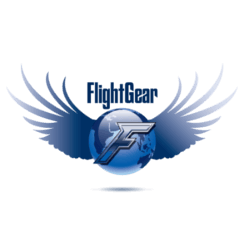 FlightGear Flight Simulator 2020.1 was released a week ago. Now it's finally made into PPA for Ubuntu 16.04, Ubuntu 18.04, Ubuntu 19.10, Ubuntu 20.04, and their derivatives.
FlightGear 2020.1 was released as current preview release that contains many exciting new features, enhancements and bugfixes.
Enhancements since 2019.1 include a developer preview of the upcoming Compositor graphical rendering framework as a separate pre-built binary, better aircraft carrier support, improvements to both the JSBSim and YASim flight dynamics models, better view options, more efficient and better looking OpenStreetMap buildings and translation of the UI into Polish. Major aircraft updates include the Boeing 777, Airbus A320, Antonov AN-24, F-16, Piper J3Cub, Saab JA37 Viggen, Piper PA28 Cherokee, Bombardier Q-400, Space Shuttle.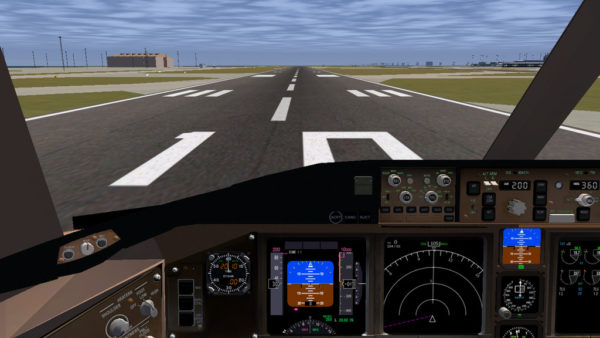 1.) To install the flight simulator, first open terminal either from system application menu or by pressing Ctrl+Alt+T on keyboard.
Package for Ubuntu 20.04 needs to be rebuilt, check the link before getting started.
When terminal opens, run command to add the PPA repository:
sudo add-apt-repository ppa:saiarcot895/flightgear
Type user password (no asterisk feedback) when it prompts and hit Enter to continue.

2.) Then refresh system package cache and install the software via command:
sudo apt update

sudo apt install flightgear
If an old version was installed, you can also upgrade it via Software Updater utility.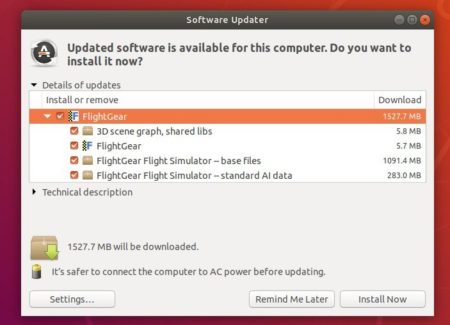 Uninstall:
To remove FlightGear PPA, either go to Software & Updates > Other Software, or run command:
sudo add-apt-repository --remove ppa:saiarcot895/flightgear
And remove the flight simulator if you want by running command:
sudo apt remove --autoremove flightgear flightgear-data