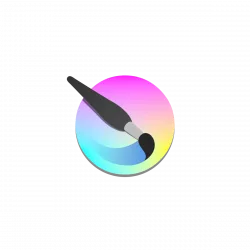 Krita graphics editor 5.1.5 released few days ago. Here's how to install it in Ubuntu 22.04 and/or Ubuntu 22.10 via PPA repository.
Krita 5.1 was released months ago with improved Webp, photoshop files support, extended fill tools, and configurable touch controls. The 5.1.5 is a new point release with following bug-fixes:
Fixed issue with banding when using the gradient map filter as a filter layer.
Only center paste into active layer if contents are outside image bounds.
EXR: Fixed opening EXR files that have only a luma channel.
Fixed an issue building with XSIMD 10.0 and up.
Properly use the resolution of a .KRA file when that file is used as a file layer.
Fixed a regression in loading PSD files.
Android: Fixed loading and creating images on Android and ChromeOS.
Android: Fixed an issue with loading translations.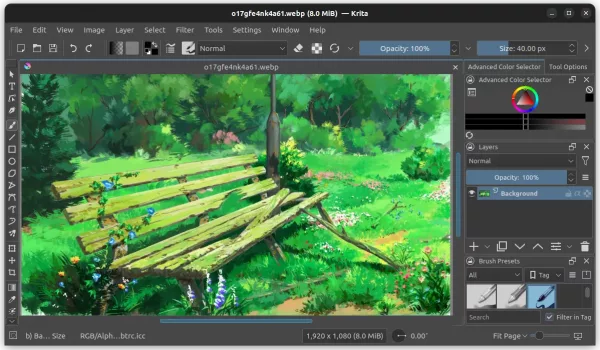 How to Install Krita 5.1.5 in Ubuntu:
Krita now provides official Linux package as universal AppImage available to download in its website. It's a non-install package that can run directly (after adding executable permission) to launch the editor.
For those prefer the native .deb package, either keep an eye on Krita Community PPA (NOT updated for stable build at the moment of writing), maintained by the guy behind the old official Krita Lime PPA.
Or, use my personal PPA that contains amd64 (64-bit) and arm64/hf packages for Ubuntu 22.04 and Ubuntu 22.10. Ubuntu 20.04 is NOT supported since Krita 5.1.x switched to XSIMD which is not available in old Ubuntu repositories.
JPEG-XL is NOT supported in this PPA, since the library is not available in Ubuntu repository so far. And, building it also needs to update highway and libavif libraries that may cause potential risk factors of conflict to other packages.
1. First, press Ctrl+Alt+T on keyboard to open a terminal window. When it opens, run command to add the PPA:
sudo add-apt-repository ppa:ubuntuhandbook1/krita
Type user password (no asterisk feedback) when it asks and hit Enter to continue.

2. Then, either launch Software Updater and upgrade the graphics editor from an old version: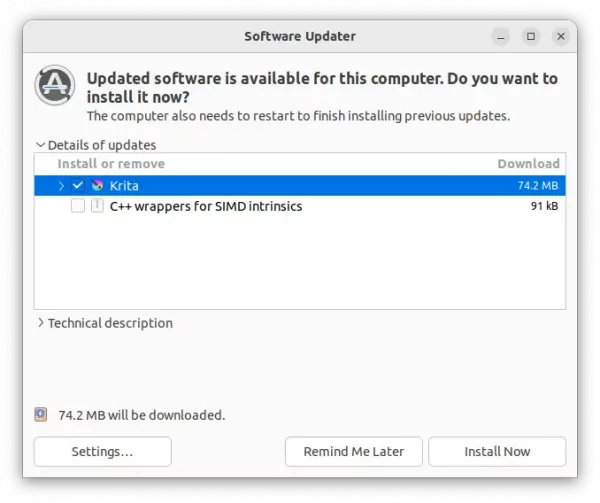 or run the command below in terminal to install/upgrade it:
sudo apt install krita
NOTE: Linux Mint may have to run sudo apt update first.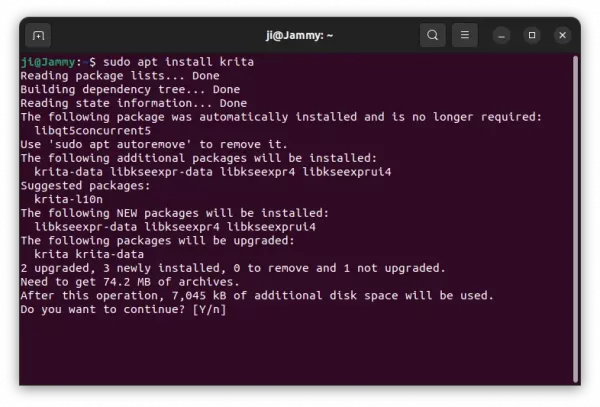 Uninstall:
To remove the PPA as well as downgrade the Krita package to stock version, run command:
sudo apt install ppa-purge && sudo ppa-purge ppa:ubuntuhandbook1/krita
Or, open Software & Updates and remove the repository source line under "Other Software" tab (Linux Mint users go to Software Sources -> PPA).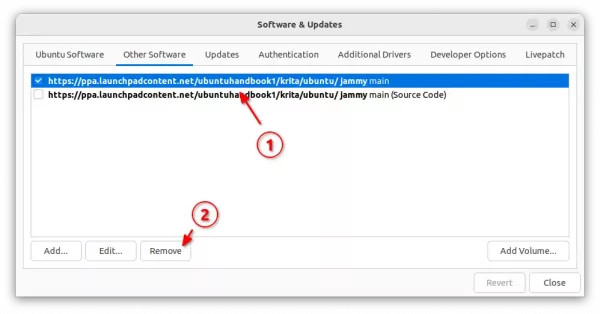 And, remove Krita graphics editor via command:
sudo apt remove --autoremove krita krita-data
That's all. Enjoy!