I don't remember when's the last time auto-save session feature works correctly in my Ubuntu machine. While, enabling hibernation could be the best choice now to save and restore all open app windows in Ubuntu.
But for those who really like the auto-save session feature, here's an Gnome Shell extension can do the job partially.
It's 'Another Window Session Manager', an extension which adds an indicator icon on top panel system tray area. It provides an option to manually save all open windows, then allows to restore either manually via menu button or automatically at login.
Not only for classic Xorg, but it also supports Wayland session. Also, it remembers window size, position, and workspace. The downsides are that it does not restore the window workspace correctly sometimes, and restores some apps in empty window rather than last open files or URLs.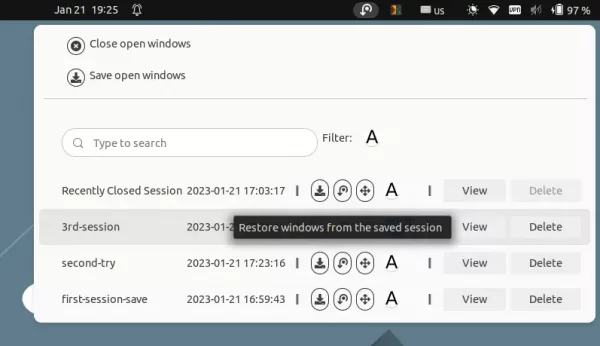 The extension is not perfect so far, but anyhow it's better than nothing!
How to Install this session restore extension:
The extension so far support for Gnome 40, 41, 42 and 43. Meaning not only for Ubuntu 22.04, Ubuntu 22.10, it also works in Fedora 35/36/37 workstation, Rocky Linux 9, Arch, and other Linux with recent GNOME desktop.
For Ubuntu 22.04+, first search for and install "Extension Manager" app from Ubuntu Software.
Then, use the tool to search and install "Another Window Session Manager" under Browse tab.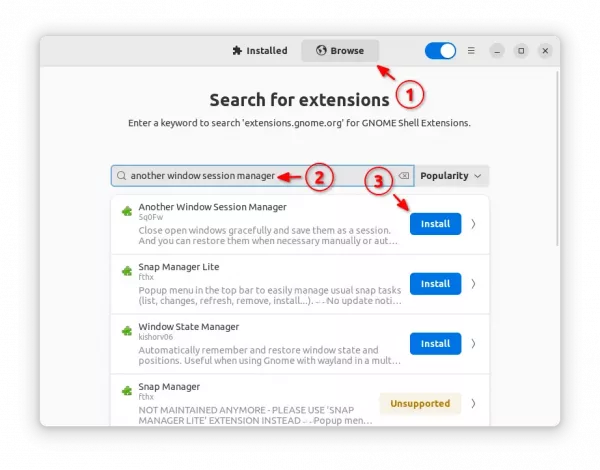 For Fedora 35/36/37 and other Linux with GNOME, visit the extension web page and use ON/OFF switch to install it.
Enable Restore open windows at login
The feature to restore all open app windows on startup after user login is not enabled by default.
You can need to do following steps one by one to enable the function:
First, go to 'Installed' tab in Extension Manager. Then open the configuration dialog for the extension, by clicking on the gear button. (or install Gnome Extensions app and use the tool to open the settings).
Finally, open the indicator menu, and turn on the ON/OFF switch for your saved session, so it will restore automatically at next login.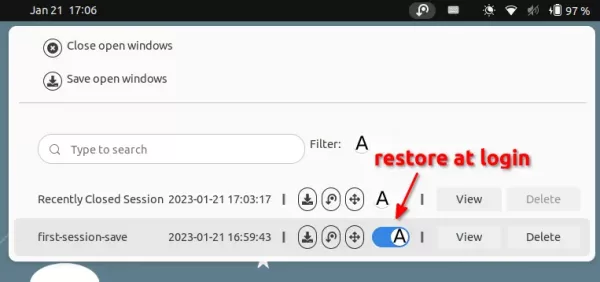 That's all. Enjoy!