Want to configure the OSD (on-screen display) pop-up in Ubuntu and other Linux with GNOME? There's an extension to do the job in GNOME 42 ~ 44.
When changing volume, screen brightness, device status (e.g., Bluetooth), etc via keyboard shortcuts in GNOME, there will be on-screen pop-ups indicate the status changes.
By default, these pop-ups occur in bottom center of screen and hide automatically in 1 seconds.
If you use "Just Perfection" extension, then you can find options to enable/disable OSD, and/or change its location on screen.
In this tutorial, I'm going to introduce "Custom OSD" that can do:
Move OSD to any screen position through horizontal / vertical percentage.
Increase/Decrease OSD size.
Configure how long the pop-up being displayed.
Enable background transparency.
As you see in the screenshot below, advanced users can also edit the CSS file to adjust background color, transparency, padding, and shadow parameters.
How to Install Custom OSD extension
For Ubuntu 22.04 and Ubuntu 23.04, firstly search for and install "Extension Manager" from Ubuntu Software.
Then, launch "Extension Manager", navigate to 'browse' tab, and finally search and install 'Custom OSD' extension.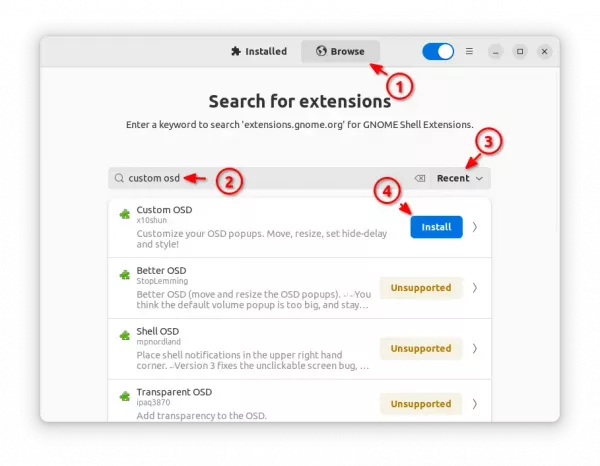 Once installed, go back 'Installed' tab in Extension Manager and click on gear icon for that extension to start configuring your on-screen display pop-ups.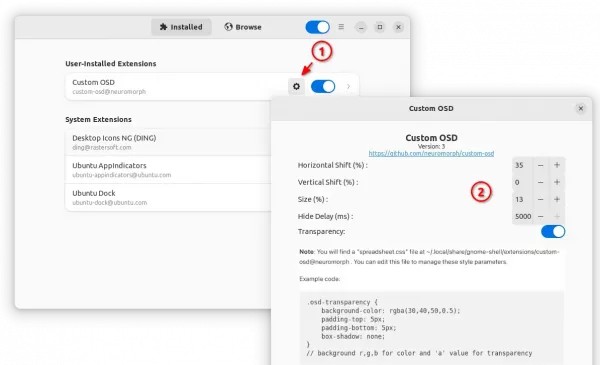 As mentioned, the extension works in GNOME from version 42 to 44. So, it should also works in Debian 12, Fedora 37/38, Arch, etc with GNOME. In these Linux, you just need to go to the link below:
Then, use the ON/OFF toggle to install/remove the extension. NOTE: If you don't see the toggle switch, install browse extension via the link in that page and refresh it!