In the recent update of Ubuntu 23.10 daily build, the GNOME desktop has been updated to v45 beta. And, here are some visual changes.
The default wallpaper now has a dark variant. Meaning changing Ubuntu Desktop to dark style will also change to dark style wallpaper. Though, the final wallpaper is not revealed yet!
The 'Files', aka Nautilus file manager, has been redesigned with more stylish layout. Which, supports drag and drop web image into file, and implements Global Search.
And, there's new system extension to enhance tiling window support. Not only half screen tiling, it also support tiling window to quarter screen size, with either drag'n'drop or keyboard shortcuts, as well as features such as Tiling Pop-up and Tiling group.
By going to 'Settings' -> 'Ubuntu Desktop', you'll see the new toggle options. Though, you can get even more by using "Extension Manager".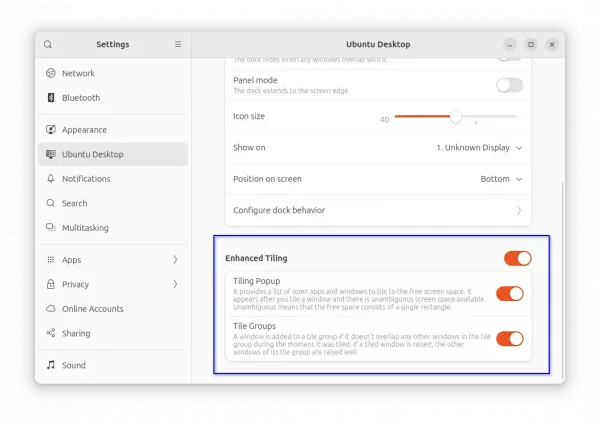 Via the latest Gnome Shell package updates, the top-left 'Activities' button is finally replaced by an indicator. Now, it displays a white pill that indicates which workspace you're on. Depends on how many workspaces you have, all others are indicated via gray dots.
As well, you may found the app menu, to indicate which app window is on focus, has also been removed. Though, the new Window Focus animation is not implemented at the moment.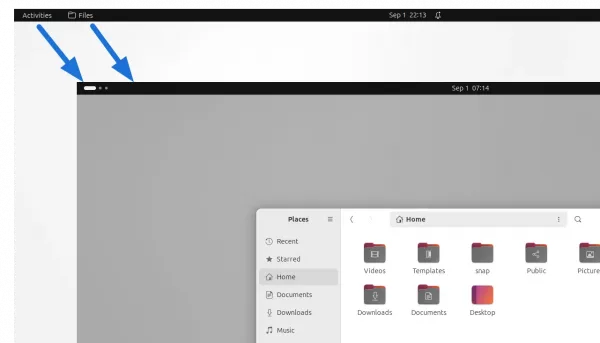 They are even more great new features in Ubuntu 23.10. To try it out, just download the latest daily build image from the link below and install it in either real or virtual machine.