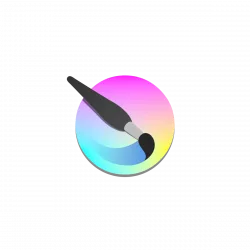 For users of Krita 5.2, the first point release of this major release was out few days ago.
The Krita 5.2.1 release includes over 50 bug-fixes, so everyone is encouraged to update!
The official announcement didn't mention any detailed changes in the release. Here are what I found according to the source page commits:
Fix rendering failure or wrong audio offset when start frame is non-zero.
Fix pasting image data issue.
Fix Size brush option to be checkable again
Fix initialization of "Checked" and "Checkable" values for masked brush options
Implement 'Other->Reset Transparent filter' to guarantee all the fully transparent pixels are zeroed.
Add update-ahead feature to outline updates
Add back edit toolbar
Add a flag for dockers that should be shown on the welcome screen
Prevent crash when a default profile in missing.
Make halftone filter work well with python
Add alpha-preserve attribute to ORA import/export
Implement ctrl+stroke for measure tool to change the baseline
Add eraser cursors for non-brush tools
Improve the quality of overview thumbnail on scaled high-dpi displays
There are as well initial import snapcraft files and a few other snap related changes. However, the official Snap package is still at v5.1.6 at the moment of writing.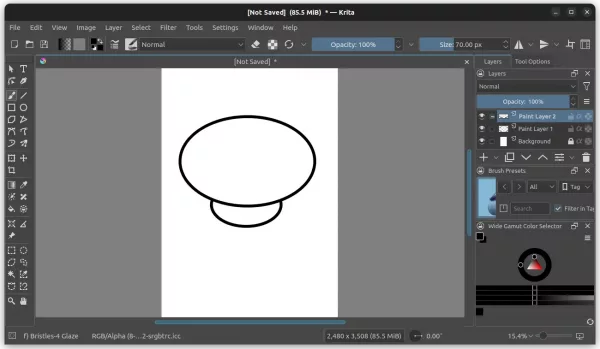 How to Install Krita 5.2.1 in Ubuntu
Krita so far provides official packages through AppImage and Flatpak.
Option 1: AppImage
The official AppImage for modern x86 64-bit (amd64) Linux is available to download at the link below:
It's non-install portable package. Just right-click on AppImage file and go to its 'Properties' page, then enable 'Executable as program' under Permissions tab. Finally, click run to launch the image editor.
Option 2: Flatpak
Flatpak is another universal package format runs in most Linux, through runs in sandbox.
At the moment of writing, Krita Flatpak package is still at v5.2.0 (check this page). Once it's updated to v5.2.1, you may run the 2 commands below one by one to get it:
First, press Ctrl+Alt+T on keyboard to open terminal, and verify Flatpak daemon is installed:

sudo apt install flatpak

Then, install Krita as Flatpak by running command:

flatpak install https://dl.flathub.org/repo/appstream/org.kde.krita.flatpakref
If you've already have Krita installed as Flatpak, run command to check updates for the package:
flatpak update org.kde.krita
Option 3: Ubuntu PPA (Unofficial)
For those who prefer the classic native .deb package format, I've made the new release package into this unofficial PPA.
So far, it supports Ubuntu 22.04 (amd64, arm64/armhf), Ubuntu 23.04 & 23.10 (amd64, armhf).
1. First, press Ctrl+Alt+T on keyboard to open a terminal window. When it opens, run command to add the PPA:
sudo add-apt-repository ppa:ubuntuhandbook1/krita
Type user password (no asterisk feedback) when it asks and hit Enter to continue.

2. Then, either launch Software Updater and upgrade the graphics editor from an old version: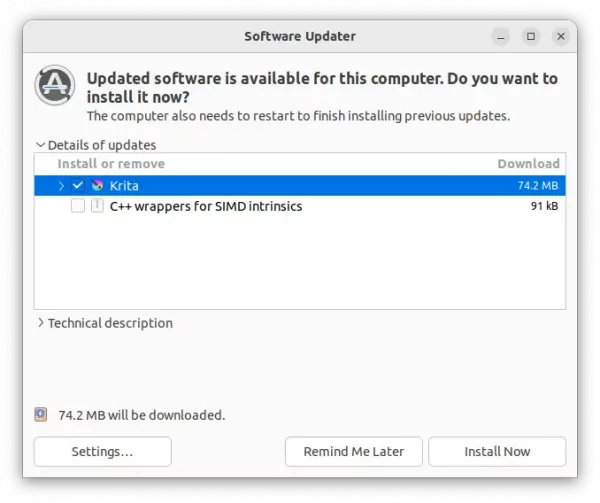 or run the command below in terminal to install/upgrade it:
sudo apt install krita
NOTE: Linux Mint may have to run sudo apt update first.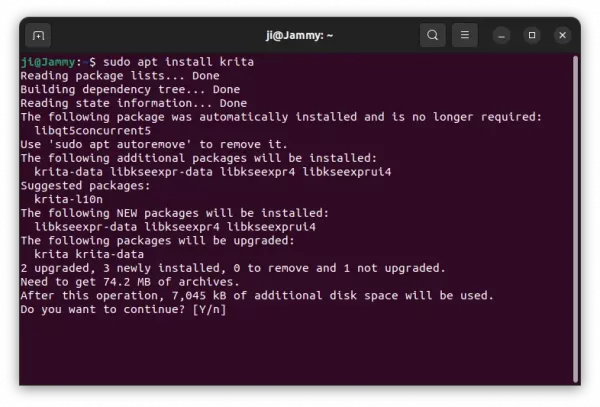 Uninstall:
For the Flatpak package, simply open terminal (Ctrl+Alt+T) and run command to remove it:
flatpak uninstall --delete-data org.kde.krita
Also, run flatpak uninstall --unused to free up some disk space by removing useless run-time libraries.
To remove the PPA as well as downgrade the Krita package to stock versions, run command:
sudo apt install ppa-purge && sudo ppa-purge ppa:ubuntuhandbook1/krita
Or, open Software & Updates and remove the repository source line under "Other Software" tab (Linux Mint users go to Software Sources -> PPA).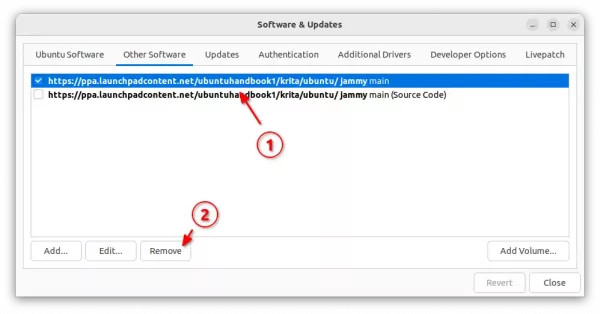 And, remove Krita graphics editor .deb package by running command:
sudo apt remove --autoremove krita krita-data
That's all. Enjoy!