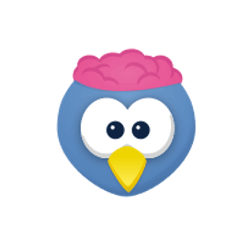 The Corebird twitter client has reached the 1.5.1 release earlier today. Only stability improvements and no other change in its release page.
Corebird 1.5.1 comes with less than 20 commits. They are mainly:
translation updates.
Fix Ubuntu 16.04 compile issue.
Compatible with more themes.
Fix double version number
And some other small improvements.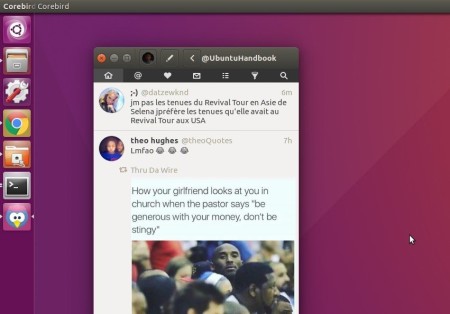 How to Install Corebird 1.5.1 in Ubuntu / Linux Mint:
Corebird now is available as Snap, Flatpak, and also traditional Deb packages via PPA.
Install Corebird via Snap:
For Ubuntu 14.04, Ubuntu 16.04, and higher, open terminal via Ctrl+Alt+T and install corebird (1.5 at the moment of writing) via command:
sudo apt-get install snapd && sudo snap install corebird

The snap package of Corebird will be upgraded automatically once the maintainer published the new released.
Install Corebird via PPA:
For Ubuntu 16.04, Ubuntu 16.10, Ubuntu 17.04, Linux Mint 18.x, you can also install Corebird 1.5.1 via the unofficial PPA (maintained by ubuntuhandbook.org).
1. Open terminal via Ctrl+Alt+T or by searching "terminal" from app menu. When it opens, run command to add the PPA:
sudo add-apt-repository ppa:ubuntuhandbook1/corebird

2. Then upgrade the client via Software Updater: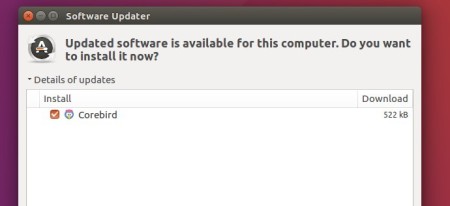 or simply run commands one by on to check updates and install Corebird:
sudo apt-get update

sudo apt-get install corebird
Uninstall Corebird:
To remove the Corebird Snap package, run command:
sudo snap remove corebird
To remove Corebird installed from PPA, run command:
sudo apt-get remove --autoremove corebird
And the PPA can be removed by Software & Updates utility under Other Software tab.