Klest-crossword is a game for professional compiling, editing and easy guessing american and classic the crossword puzzles.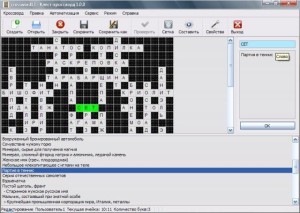 It contains more than 1,000 crossword puzzles to guess and provides a lot of tools for creating a crossword puzzle. It a dictionary of 31 000 Russian words and a dictionary of 41 000 English words.
All functions:
Creating and guessing a crossword puzzle;
Check correctness of guessing a crossword puzzle;
Save state incompletely guessed crossword puzzle;
Automatic creation of crossword puzzle grid (beta)
Automatic compiling;
Semi-automatic compiling;
Creating and editing a dictionary;
Adding / removing words from the dictionary;
Saving created a crossword puzzle grid, as a template for the new;
Editing the font crossword;
Editing the grid of crossword puzzle;
Export crossword: RTF, PDF, PostScript(*.ps), HTML, Text format across Lite, JPG, JPEG, TIFF, BMP, XPM, PNG, XBM, PPM, OpenKlest(*.ok);
Import crossword: Texthttp://qt-apps.org/content/show.php/Klest-crossword?content=144254 format AcrossLite, OpenKlest(*.ok);
Print crossword;
Statistics;
Install Klest-crossword:
The source code and Deb installer are available from SourceForge.