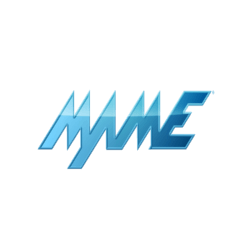 MAME (Multiple Arcade Machine Emulator) reached the 0.192 release. Here's how to install it via PPA in Ubuntu 17.04, Ubuntu 17.10.
MAME is a free and open source emulator designed to recreate the hardware of arcade game systems in software on modern personal computers and other platforms.
The latest MAME 0.192 was release a few days ago with following changes:
Supports Oriental Legend 2 and Knights of Valour 2 New Legend
The MCU for Ping Pong King is simulated
Flower and Taito's abstract maze game Marine Date are emulated better.
Missing graphics in the Merit Megatouch games fixed.
graphical fixes for FM Towns
heaps of improvements for the Tatung Einstein
No-Slot Clock support for the Apple //e family
support for some Brazilian CoCo clones from Prológica and Codimex.
The ACI Destiny Prodigy, Mephisto RISC 1MB and Mephisto RISC II chess computers are now working.
How to Install MAME 0.192 in Ubuntu:
There's an unofficial PPA contains the latest packages for Ubuntu 17.04, and Ubuntu 17.10 so far. Unfortunately, Ubuntu 16.04 build is not updated any more since version 0.189.
1. Open terminal either via Ctrl+Alt+T or by searching for 'terminal' form app launcher. When it opens, run command:
sudo add-apt-repository ppa:c.falco/mame
Input your password (no visual feedback) when it prompts and hit Enter to continue adding the PPA.

2. Then upgrade the emulator via Software Updater utility if you have a previous release installed.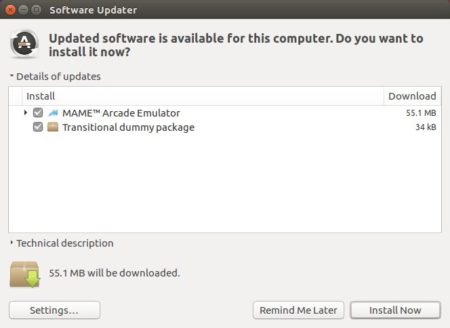 or run commands one by one in terminal to install it:
sudo apt-get update

sudo apt-get install mame
Uninstall:
To remove MAME emulator, run following command in terminal:
sudo apt-get remove --autoremove mame
To remove the PPA, launch 'Software & Updates' utility and navigate to Other Software tab.