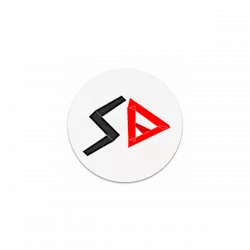 There are quite a few YouTube apps for Linux today. SF Tube is a new one that has an elegant user interface with easy to use download options.
SF Tube, formerly FluTube, is a free libre and open-source app made using Google's flutter. So far, it provides packages for Linux, Android, and Windows.
The app provides a beautiful user interface with Home, Like, Downloads, and Settings tabs. A 'search' button is available in top-right corner, allows to search in YouTube. And, the results are displayed along with download buttons.
By clicking on download, it pop-up a dialog allows to choose download 'Video + Audio', 'Audio only', or 'Video only' with quality options.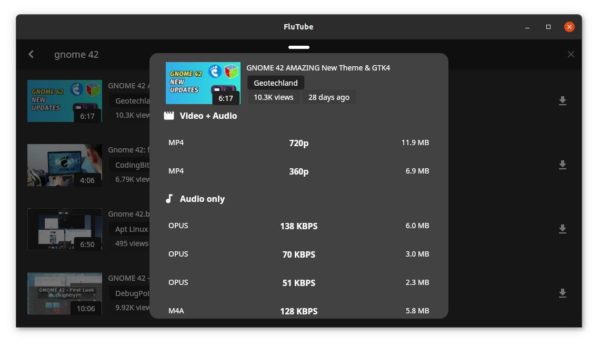 On the '⤓' tab, it shows history downloads as well as current downloading process if any. As well, each video/audio has a delete button in the right.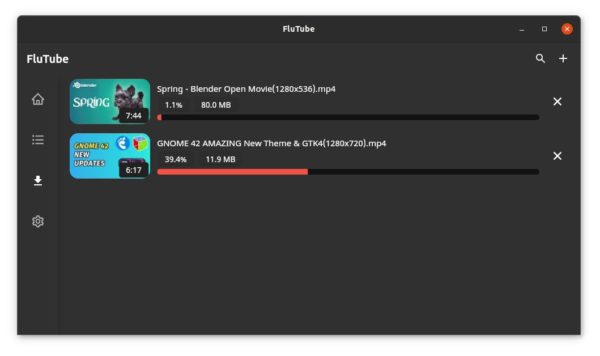 In any page clicking on a video will open the detail page with descriptions, comments, as well as share, like, download buttons. Sadly, the video playback is not implemented at the moment of writing though the developer is now working on it!
Other features of SF Tube include:
Download via YouTube url via '+' button.
Dark / Light mode.
Lightweight and fast.
No Login Required.
Playlists support.
Ads free forever.
Install SF Tube in Ubuntu & other Linux:
The app provides packages in the Github releases page under 'Assets' section:
Linux user may choose the non-install .Appimage package. Add executable permission via file's 'Properties' dialog, and finally click run it to launch the app.
Ubuntu, Debian and Linux Mint based systems may just download the '.deb' package and double-click on file to install the app.
As well, a Linux tarball is available. Grab and then extract the package, then user may run the executable from extracted folder to launch the YouTube app.
That's all. Enjoy!