Xfce4 Composite Editor is a simple GUI tool that allows to configure the various Xfce4 Window Manager compositor settings that are not available via the Window Manager Tweaks control panel.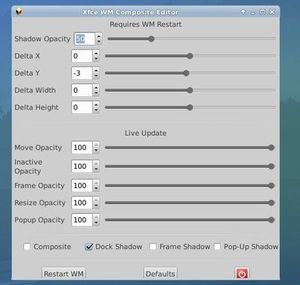 The developer of Xfce Theme Manager wrote this simple tool, and it has the ability to control below settings:
Shadow opacity.
Shadow delta X, Y, width and height.
move window opacity.
inactive window opacity.
frame opacity.
resize window opacity.
popup opacity.
Also it provides options to swich on / off composite, dock shadow, frame shadow, pop-up shadow and Restart VM to apply changes.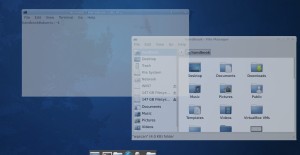 Below is what the developer said in GTK-Apps, "These settings are available via the xconf settings editor but that is one of the most awkward GUI's I have ever used as you have to select the xfwm4 channel, expand the tree, scroll to the option you want, select it, click edit, change the setting and click save, then the tree gets collapsed and you have to start again! So this nice simple GUI to control the composite manager, the settings are self explanatory."
Install Xfce4 Composite Editor
The PPA repository has been created to make it easy to install for (X)Ubuntu users. So far, it supports 13.04 Raring, 12.10 Quantal, and 12.04 Precise.
To add the PPA and install this app, press Ctrl+Alt+T on your keyboard to open terminal. When it opens, run below commands:
sudo add-apt-repository ppa:rebuntu16/other-stuff
sudo apt-get update
sudo apt-get install xfce4-composite-editor
Once it is installed, open it from the Xfce Settings Manager.