The KDE Community announced Plasma Workspaces 4.11 a few days ago. Now it's available in Kubuntu Backports PPA, here you can install / Upgrade to KDE 4.11 in (K)Ubuntu 13.04, (K)Ubuntu 12.04, (K)Ubuntu 12.10.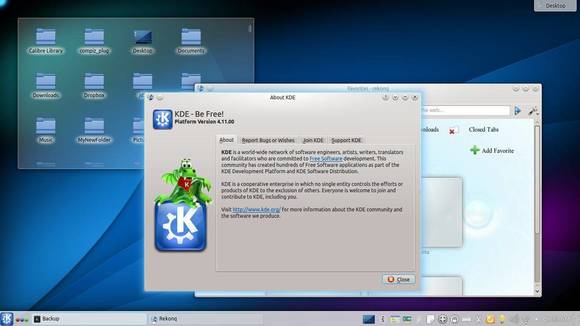 New in KDE 4.11:
Plasma Workspaces 4.11 Continues to Refine User Experience
Gearing up for long term maintenance, Plasma Workspaces delivers further improvements to basic functionality with a smoother taskbar, smarter battery widget and improved sound mixer. The introduction of KScreen brings intelligent multi-monitor handling to the Workspaces, and large scale performance improvements combined with small usability tweaks make for an overall nicer experience.
KDE Applications 4.11 Bring Huge Step Forward in Personal Information Management and Improvements All Over
This release marks massive improvements in the KDE PIM stack, giving much better performance and many new features. Kate improves the productivity of Python and Javascript developers with new plugins, Dolphin became faster and the educational applications bring various new features.
KDE Platform 4.11 Delivers Better Performance
This release of KDE Platform 4.11 continues to focus on stability. New features are being implemented for our future KDE Frameworks 5.0 release, but for the stable release we managed to squeeze in optimizations for our Nepomuk framework.
Read the official announcement.
Install / Upgrade KDE 4.11
Press Ctrl+Alt+T to open terminal. When it opens, copy (Ctrl+C) the code and paste (Ctrl+Shift+V) in terminal and hit enter to add the Kubuntu Backports PPA:
sudo add-apt-repository ppa:kubuntu-ppa/backports
Then update package lists and upgrade your system:
sudo apt-get update; sudo apt-get upgrade
If you're going to install the Kubuntu desktop, run below commands instead:
sudo apt-get update; sudo apt-get install kubuntu-desktop