The 2D CAD software QCad 3.3 has been released with a focus on block attributes. Block attributes can be used to define variable, dynamic text entities in blocks. Watch this screencast for a brief introduction on creating and using block attributes with QCAD.
QCAD is available in Ubuntu Software Center by default, but it's old. This tutorial is going to show you how to download & install the latest package (so far, it's 3.3) in Ubuntu 13.04 Raring, Ubuntu 13.10 Saucy, Ubuntu 12.04 Precise and their derivatives such as Linux Mint and Elementary OS.
Download & Install QCad 3.3:
Download:
QCad installer for 32-bit Linux
QCad installer for 64-bit Linux
Install:
1. Go to Downloads folder, right-click on downloaded file and go to its Properties window. Check on 'Allow executing file as program.' under Permissions tab.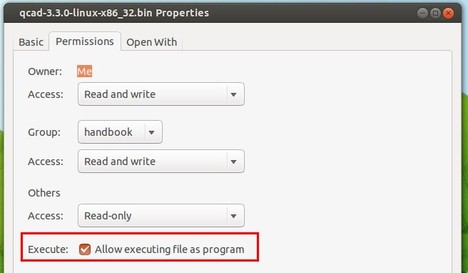 2. Press Ctrl+Alt+T on your keyboard to open terminal. When it opens, run below commands to run the installer:
cd ~/Downloads/ && ./qcad-3.3.0-linux-x86_*.bin
That's it. Enjoy!