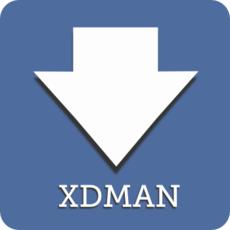 Want a super fast download manager? Well, Xtreme Download Manager is the good choice for you.
Xtreme Download Manager is a advanced and powerful tool to increase download speed up-to 500%, resume broken/dead downloads, capture videos from YouTube, Metacafe, DailyMotion, Google Video or any other website and schedule downloads.
Xtreme Download Manager uses sophisticated dynamic segmentation algorithm, data compression and connection reuse to speed up the download process.
Features:
Download files at maximum possible speed. (5-6 times faster)
Sophisticated dynamic file segmentation algorithm,data compression & connection reuse.
Download FLV,MP4,HTML5 videos from YouTube, MySpaceTV, Google Video or Any Other site
Capture download from any browser (Firefox,Chrome,Internet Explorer,Opera,Safari or any other program trying to download a file from Internet)
Supports HTTP,HTTPS,FTP protocols with Authentication,Proxy Servers, Cookies, Redirection etc.
Resumes broken/dead downloads caused by connection problem,power failure or session expiration
Built in YouTube downloader, HTTP Traffic monitor, Batch downloader.
Can be configured to perform Automatic Antivirus checking, System shutdown on download completion
From version 4.0 XDM supports automatic proxy configuration scripts, so it can operate within corporate proxy/firewall
The first running this tool, you'll get a window teaches you how to integrate the download manager with Firefox, Chrome or other web browsers.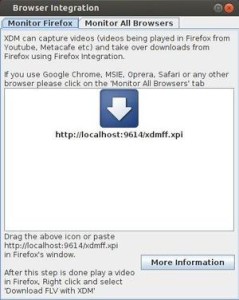 I have a 4 mbps plan, XDMan downloads files in 1000 KB/sec which is the maximum possible speed. The usual speed is between 250 and 500 KB/sec.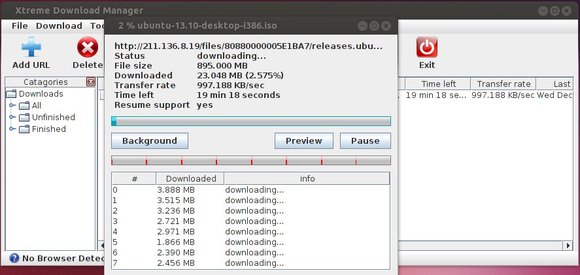 Install Xtreme Download Manager:
Xtreme Download Manager (XDMan) works in Linux and Windows. To install it in Ubuntu Linux, just download and install the DEB from the links below:
Source code and EXE file is available in Sourceforge.net