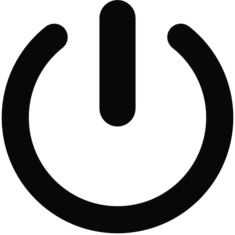 Want to shutdown, restart, or hibernate your Ubuntu machine automatically on a schedule? Well, it can be done easily by a graphical tool called ComplexShutdown.
ComplexShutdown is a simple python script for those who hate Linux commands to schedule shutdown Ubuntu desktop with an easy to use graphical interface.
This simple GUI features:
Automatic Shutdown, Log off, Restart, Standby (Suspend), Hibernate, and run a custom command.
Supports sound and message notification, Unity integration,
Run action in days:hours:minutes:seconds.
Run action after computer idled days:hours:minutes:seconds.
Run action in select date and time.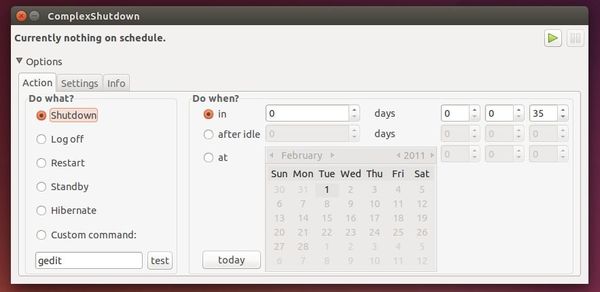 Install ComplexShutdown in Ubuntu:
Download the latest .deb package from the link below. Then double click to open it with Ubuntu Software Center and click the install button.
Once installed, open it from Unity Dash and enjoy!
Tip: due to bug, options for "after idle" and "at" are grayed out. I got it fixed in my 64-bit Ubuntu 14.04 by accident. See what I did:
Downloaded & installed the complexshutdown_0.5_all.deb
Run the app for a while and found that "after idle" and "at" options not available.
Removed complexshutdown 0.5 by running below command in terminal:

sudo apt-get remove complexshutdown

Installed the complexshutdown_0.4_amd64/i386.deb (available in above link)
Run the app and found that "at" option worked, but "after idle" not.
Finally I removed complexshutdown_0.4 and reinstalled the 0.5 version. Found that all works!