The beta version of the next major 1.x release of Spotify client for Linux has been announced a few hours ago, available for test in its testing repository.
According to the announcement, the 1.x client brings below changes to Linux users:
Various text/mouse input bugs in current stable release (e.g. client doesn't give up mouse focus, crash on drag/drop, text input not work on some window managers) have been fixed.
"Now playing" notifications can be switched off in the settings page
The WM_CLASS property should be set correctly
As a beta release (version 1.0.7.153.gb9e8174a at the moment), there are some known issues/limitations:
Login with Facebook Connect does not work (will be fixed soon)
There is no application menu
There is no tray icon
Some key bindings do not work yet, like ctrl+s for shuffle, etc.
The application is super tiny on hi-res displays
32-bit builds are not available yet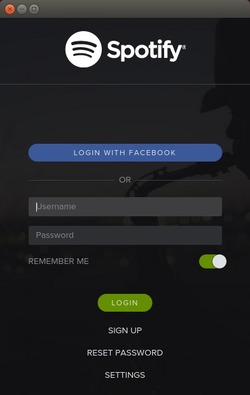 If you want to try this new client in Ubuntu 14.04/15.04, follow bellow steps to add Spotify testing repository and keep the client up-to-date via Software Updater.
1. To add the testing repository, open terminal and run:
echo deb http://repository.spotify.com testing non-free | sudo tee /etc/apt/sources.list.d/spotify.list

2. After that, you can install the 1.x client either via Synaptic Package Manager or by running below commands one by one:
sudo apt-get update

sudo apt-get install spotify-client
3. (Optional) To remove the testing repository, just run:
sudo rm /etc/apt/sources.list.d/spotify.list
For those who don't want to add the repository, download the .deb package at web page.