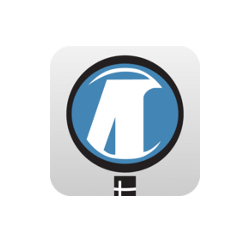 MuPDF, a free, open-source, and lightweight PDF and XPS viewer, now reaches the 1.8 release with new features, improvements and various fixes.
MuPDF is a lightweight PDF viewer and toolkit written in portable C, which also reads XPS, OpenXPS and EPUB documents. It works on Windows, Android, and Linux.

The renderer in MuPDF is tailored for high quality anti-aliased graphics. It renders text with metrics and spacing accurate to within fractions of a pixel for the highest fidelity in reproducing the look of a printed page on screen.
What's New in MuPDF 1.8:
Headline changes:
New OpenGL-based barebones desktop viewer.
New URW fonts with greek and cyrillic.
64-bit file support.
Ghostscript proofing mode (source only; not in shipped binaries).
EPUB improvements:
User style sheets.
GIF images (also for CBZ).
Table of contents.
CJK text.
Page margins.
Many bug fixes.
Bug fixes:
Updated FreeType to version 2.6.1.
Various font substitution bug fixes.
Fix setjmp/longjmp behaviour which could cause optimizing compilers to misbehave.
In addition, mudraw has been merged into mutool, use mutool draw to use mudraw.
How to Install MuPDF 1.8 in Ubuntu:
There are Android, Windows installers, and source tarball available in its official download page.
For Ubuntu and derivatives, you can either build the viewer from the source or use my personal binaries in PPA.
Method 1:
Open terminal from Unity Dash, App Launcher, or via Ctrl+Alt+T shortcut key. When it opens, run below commands one by one to add my PPA and install MuPDF:
sudo add-apt-repository ppa:ubuntuhandbook1/apps

sudo apt-get update

sudo apt-get install mupdf mupdf-tools
Method 2 For those who don't want to add PPA:
Depends on your Ubuntu edition (e.g., 15.10, 15.04, 14.04, and 12.04), and OS type (i386.deb for 32-bit and amd64.deb for 64-bit)
select download the .deb packages for mupdf and mupdf-tools from the link below:
Finally click install the packages via Ubuntu Software Center.
How to Use:
The PDF viewer doesn't have a launcher. To use it, right-click on the file and select it from the "Open With" option.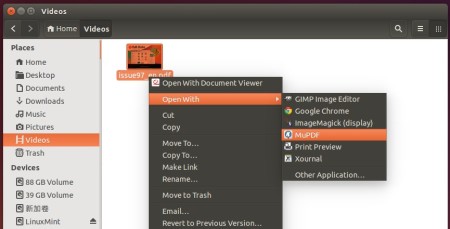 To set default, go to file's context menu -> Properties -> Open With tab -> select MuPDF from list -> finally click 'Set as default' button.
For mouse behavior and key bindings run man mupdf command in terminal.
Uninstall:
You may remove the PPA by launching Software & Updates and then navigate to Other Software tab. Also remove MuPDF via Ubuntu Software Center if you want.