FocusWriter, a simple, feature-riched, and distraction-free word processor, has now reached the 1.6.0 release with some great enhancements and fixes.
FocusWriter 1.6.0 adds 4 new background themes, headings (h1 to h6) format, ODT Flat XML files and high DPI displays support.
Other Changes in FocusWriter 1.6.0:
Option to always show scrollbar, topbar, bottom bar.
Allow removing user-installed dictionaries
Add shortcut for typographical apostrophe
Switched to QSoundEffect
Update dictionaries
Bug fixes and translation updates:

Daily progress did not reset when run longer than a day
Printer margins were too big
Was replacing session files with command-line files
Did not add new default symbol shortcuts
How to install FocusWriter 1.6.0 in Ubuntu:
The official Ubuntu PPA has been updated with Ubuntu 16.04 and Ubuntu 16.10 support, the new release also available for Ubuntu 14.04 and derivatives.
1. Open terminal (Ctrl+Alt+T) and add the PPA:
sudo add-apt-repository ppa:gottcode/gcppa

2. To upgrade from a previous release, just launch Software Updater and install the updates after checking for updates.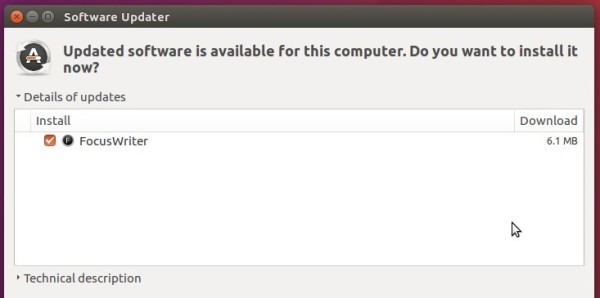 Or you may install the program via command:
sudo apt update && sudo apt install focuswriter
For those who don't want to add PPA, grab the latest .deb package directly from the PPA archive.