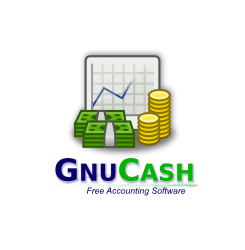 The nineteenth maintenance release of GnuCash 2.6 stable series was announced 2 days ago. Here's how to install it in all current Ubuntu releases.
Bugs fixed in GnuCash 2.6.19:
Disabling OFX, AqBanking or python-bindings support cripples the dist build target
FTBFS with libdbi 0.9.0-5 on Debian: DBI error
Set Invoice/Bill items date correctly from imported CSV
A better way to handle MySQL's 0000-00-00 invalid date indicator.
Fix python build and test errors on Mac.
Add translator hint comments to C and glade files.
Improve type of bank accounts in SKR03
Stop testing GObject's handling of invalid parameters
How to Install GnuCash 2.6.19 via Snap in Ubuntu:
For Ubuntu 16.04 and higher, GnuCash now is available as Snap package (run in sandbox).
Simply search for and install it from Ubuntu Software (need login with Ubuntu One account).
Or open terminal (Ctrl+Alt+T) and run command to install the snap:
snap install gnucash-jz

The snapped package co-exists with traditional application. To remove it, run command:
sudo snap remove gnucash-jz
How to Install GnuCash 2.6.19 via PPA in Ubuntu:
For those who prefer traditional packages, you can install GnuCash 2.6.19 from the unofficial PPA, since the getdeb repository has not been updated for a period of time.
1. Open terminal via Ctrl+Alt+T and run command to add the PPA:
sudo add-apt-repository ppa:ubuntuhandbook1/gnucash
Input your password (no visual feedback) when it prompts. Ubuntu 16.04, Ubuntu 17.04, Ubuntu 17.10, and Ubuntu 18.04 are supported.

2. Then upgrade the software from an existing release via Software Updater: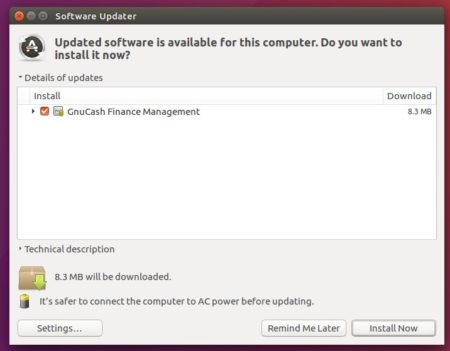 or simply run commands one by one in terminal:
sudo apt-get update

sudo apt-get install gnucash
Uninstall:
To remove the financial-accounting software, open terminal and run command:
sudo apt-get remove --autoremove gnucash
And remove the PPA via Software & Updates utility under 'Other Software' tab.