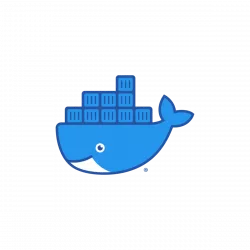 Running applications via Docker in Ubuntu Linux? Dockeye is a free open-source tool to manage your containers and images via a graphical user interface.
Dockeye is written in Rust programming language. It provides a dark UI (light mode is also available) that list Docker containers and images in tabs. For each container, it provides options to control start, stop, pause, and remove operations.
User may also check the detailed information about a container, including ID, image, maintainer, labels, environment, network info, CPU, Memory and other system resource usage. And, app running log is available in tab for debugging purpose.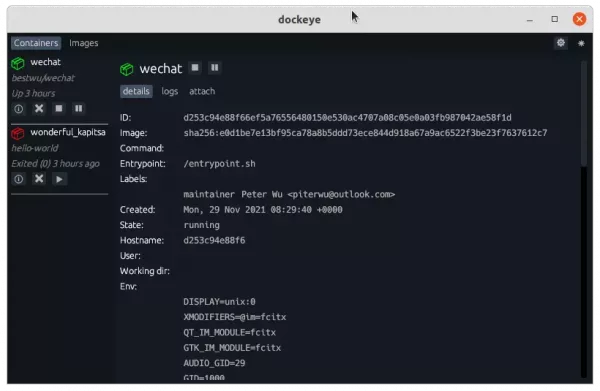 Also, it lists images with information about creation time, architecture, size, docker version, as well as delete and save as tar archive options. And, it offers the option to pull an image from a registry.
How to Get Dockeye in Ubuntu Linux:
Dockeye is a new project. It provides package for Arch Linux via AUR. User may use command to get it:
paru -S dockeye
For other Linux including Ubuntu, grab the package from the github releases page:
So far (Nov 2021), it provides only Linux tarball. Extract and navigate to the folder that contains the app executable. Finally, right-click on blank area and select 'Open in Terminal' and then run command below to start it:
sudo ./dockeye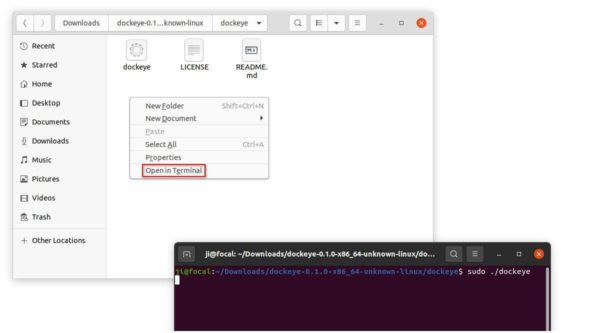 As new project, it may have bugs. To help improving it, please report issues at this page.