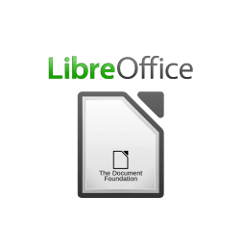 LibreOffice 5.2 is finally available for upgrade in Ubuntu 16.04 and Ubuntu 14.04 via PPA repository.
Although LibreOffice 5.2 was released a weed ago along with .deb binaries, Flatpak, and Snap (still in beta) packages, a PPA repository, with well Unity integrated packages, is still needed for some users. Now the PPA is ready, and here's how to upgrade for beginners.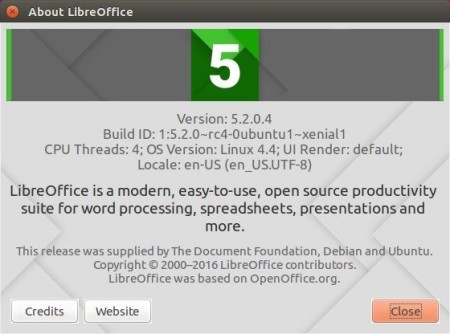 What's new in LibreOffice 5.2:
a single toolbar mode for Writer and Calc
most of the context menus can now be customized
new Calc spreadsheet functions (including forecasting functions)
support for signature descriptions
support for OOXML signature import/export
GTK3 user-interface improvements
OpenGL rendering improvements
multi-threaded 3D rendering, faster rendering
bookmark improvements.
See release note for more.
How to install LibreOffice 5.2 in Ubuntu via PPA:
1. First open terminal (Ctrl+Alt+T) and run command to add LibreOffice Fresh PPA:
sudo add-apt-repository ppa:libreoffice/ppa
Type in your password when it prompts and hit Enter, read the PPA description, and hit Enter to continue.

2. Upgrade LibreOffice via Software Updater, after checking for updates. removing the package libreoffice-gtk.
The current build in PPA uses the package libreoffice-gtk2 instead of the default libreoffice-gtk, so Software Updater or (apt upgrade) will keep back the original LibreOffice release.
To fix it, simple remove libreoffice-gtk before the upgrade process:
The PPA has re-built the package with traditional libreoffice-gtk package added, so just launch Software Updater and upgrade your system.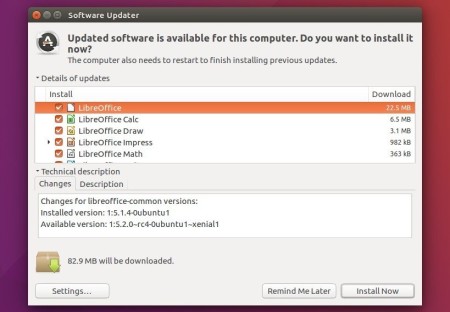 Instead of using Software Updater, you may also use the dist-upgrade command to upgrade to LibreOffice 5.2:
sudo apt update && sudo apt dist-upgrade
3. (Optional) To downgrade to LibreOffice 5.1.4, purge the PPA via command:
sudo apt install ppa-purge && sudo ppa-purge ppa:libreoffice/ppa
That's it. Enjoy!